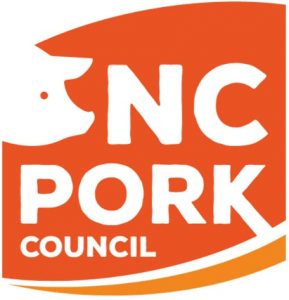 The historic flooding in the aftermath of Hurricane Florence has continued to cause widespread impacts across eastern North Carolina, including affecting at least a dozen of our hog farms.
Significant efforts continue in order to provide feed and care for animals and to ensure safety for farm families and employees.
We are currently aware of the following impacts:
One lagoon breach occurred on a small farm in Duplin County. An on-site inspection showed that solids remained in the lagoon. The roof of an empty barn on the farm was also damaged. A photograph of the lagoon and barns, taken today, is provided below.
Four lagoons have been inundated by flood waters.
Seven lagoons are at capacity due to rainfall and appear to have overtopped.
We do not believe, based on on-farm assessments to date and industrywide surveying, that there are widespread impacts to the more than 2,100 farms with more than 3,000 anaerobic treatment lagoons in the state. Waters from the record-shattering storm are rising in some places and receding in others, and we expect further impacts to be reported as conditions and access allows.
A note to the media
We will continue to provide advisory updates as soon as is practicable.
Communications in the field remain sporadic and our primary attention remains on logistical and operational support.
We are providing additional information and resources below.
Key terms
We track the U.S. EPA and state of North Carolina terminology.
Lagoons: Waste from hog farms is treated in anaerobic lagoons, then applied to nearby fields as fertilizer on a crop in accordance with strict state regulations. "Lagoon" is not a term created by the pork industry. It reflects the language used by the EPA to describe these treatment systems. It is incorrect to refer to hog lagoons as cesspools, which is a separate treatment system.
Breach: A breach is a structural failure of a lagoon — the lagoon walls give way and no longer hold back all of the lagoon contents. This is rare. During Hurricane Matthew, one farm experienced a partial lagoon breach. During Hurricane Floyd, six lagoons were breached.
Inundation: When heavy rains cause major rivers to overflow, entire communities can be inundated with water. When a lagoon is inundated, the walls remain intact, but floodwater rises over the sides and fills the lagoon. By design, solids are stored and remain at the bottom of the lagoon, and the liquids at the top are heavily diluted, minimizing the environmental impact.
Overtop: Severe, heavy rainfall may cause a lagoon to reach capacity and overflow, or overtop. Every hog farm in the state must maintain a minimum buffer of 19 inches to allow for significant rain events. This buffer is known as freeboard and it is designed to minimize the risk of a lagoon overtopping. Many lagoons maintain much more freeboard space, especially as hurricane season approaches.
Photos of hog farm conditions
At top left, farm with a lagoon breach and damaged empty barn in Duplin County (separately provided below). Photo at bottom right is from Sampson County.
Other photos show standing rainwater.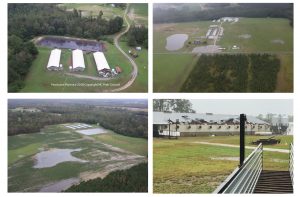 Jones County photo
The Associated Press published a photo on Sunday, Sept. 16, of a farm with an inundated lagoon in Jones County. We received numerous inquiries about the status of the farm. The water surrounding the barns was not deep and there has been continued access to the barns. At right, is a photo taken at the barns on the morning of Monday, Sept. 17.
The AP also published the photo below, though many other media outlets did not publish it online or in print.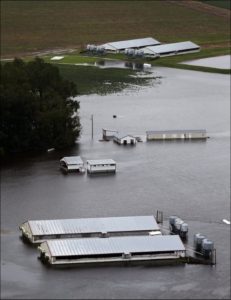 Duplin County photo
Duplin County hog farm with a lagoon breach and damaged empty barn photographed Sept. 17, 2018. Breach is shown at top right of lagoon.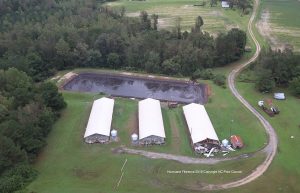 In context: Hurricane Matthew
To put the damage from Hurricane Florence in context, it may be useful to consider the impact caused by Hurricane Matthew in 2016. That was an equally devastating storm that caused more than $1 billion in damage and resulted in 26 deaths in North Carolina.
Since Hurricane Floyd in 1999, the industry has taken significant steps to minimize the threat of flooding on North Carolina hog farms. This includes the permanent closing of 334 hog lagoons located in flood plains.
Impact on Hog Farms by Hurricane Matthew
1 partial lagoon breach on an inactive hog farm
14 lagoons inundated by floodwaters
No lagoons overtopped
No impact to more than 99.5% of active lagoons in North Carolina
Impact on Municipal Wastewater Treatment Plants
Municipal wastewater treatment plants spilled more than 154 million gallons of raw, untreated human waste into the state's waterways.
State: Hurricane Matthew had "Minimal and Temporary" Impact on Water Quality
Following Hurricane Matthew, the Division of Water Resources conducted extensive monitoring of waterways across eastern North Carolina. Link to the complete report.
It reached the following conclusion:
"After reviewing the data collected, and comparing that to precipitation amounts, river levels and known areas of flooding, the overall impacts of Hurricane Matthew on surface water quality were initially minimal and temporary, and the long-term effects appear to be similar to previous storms and long-term historical conditions. While many eastern North Carolina areas were inundated by floodwaters and incidents of spills, breaches or waste facility shutdowns were reported, the amount of water discharged into the river basins resulted in a diluting effect, which primarily resulted in lower than normal concentrations of various pollutants."
North Carolina hog farms
N.C. Hog Farms
More than 2,100 permitted hog farms
More than 3,300 active lagoons
No hog farms have been built in North Carolina since 1997
N.C. Swine Inventory (June 2018)
Under 50 pounds:3.3 million (37%)
50-119 pounds:1.7 million (19%)
120-179 pounds:1.7 million (19%)
180+ pounds:1.3 million (15%)
Breeding Stock: 900,000 (10%)
Total:9 million
A word of caution
We urge the media to exercise caution when reporting about impacts of Hurricane Florence on North Carolina hog farms. In advance of the storm, and since its onset, the North Carolina Pork Council has seen widespread instances of inaccurate reporting in the media about the pork industry.
In previous years, we have seen photos of municipal waste plants, poultry houses and other agricultural facilities inaccurately labeled as pig farms. We have seen barns that have been empty for multiple years characterized as active hog farms. We urge caution, especially in a breaking news environment where initial information is often inaccurate.
It is precisely in these first hours and days that activists with an agenda seek to exploit the media – or the media simply gets it wrong. Our request: Beware of what you hear about hog farms during Hurricane Florence.
Additional information
Hog farms & hurricanes: https://ncpork.org/primer/
Matthew, and buyouts: https://ncpork.org/buyout/
Beware of misleading agendas: https://ncpork.org/beware/
The storm's threat: https://ncpork.org/concern/