We Care: The Pork Industry's Commitment
to Ethical Principles

Produce Safe Food

Protect + Promote Animal Well-Being

Ensure Practices to Protect Public Health

Provide a Safe Work Environment

Safeguard Natural Resources

Contribute to Better Quality of Life for Our Communities
Producing safe, wholesome food is our most important responsibility. Our farmers actively engage with the scientific community, governmental agencies, and food chain partners to create credible programs and stringent policies that advance pork food safety.
This collaboration has led to the development of forward-thinking programs that advance good farming practices. We raise our pigs indoors and closely monitor all aspects of biosecurity to improve the safety and quality of today's pork.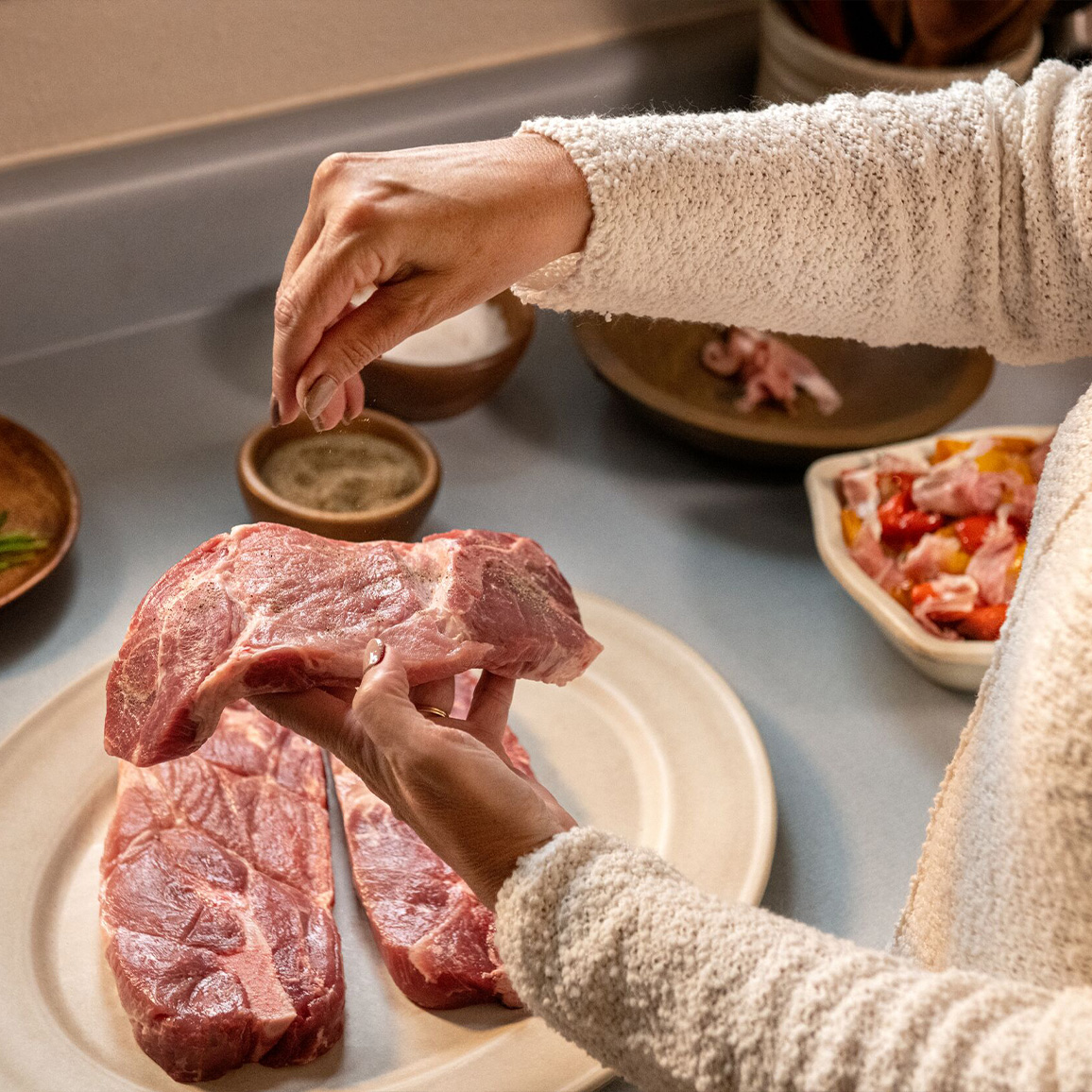 Protect + Promote Animal Well-Being
Healthy animals are the key to producing quality pork. Today's pigs are raised on farms that are dedicated to the health, well-being, and safety of the animals—from the moment they are born.
We work with veterinarians and other agriculture experts to advance practices that guide farmers on everything from a proper diet to the safe transportation of pigs. Our animals are raised indoors with limited access to people and other animals to manage barn biosecurity and keep out disease-causing pathogens, promoting the health of our pigs.
Ensure Practices to Protect Public Health
NC Pork Council uses new technologies to improve the health of our pigs and reduce the environmental impact of our farms to protect public health. Farmers implement practices that have been developed over decades to continuously improve the way we care for our animals and manage our farms.
North Carolina is also a national leader in producing renewable energy generated from swine waste. Our commitment to clean energy betters the health of our community.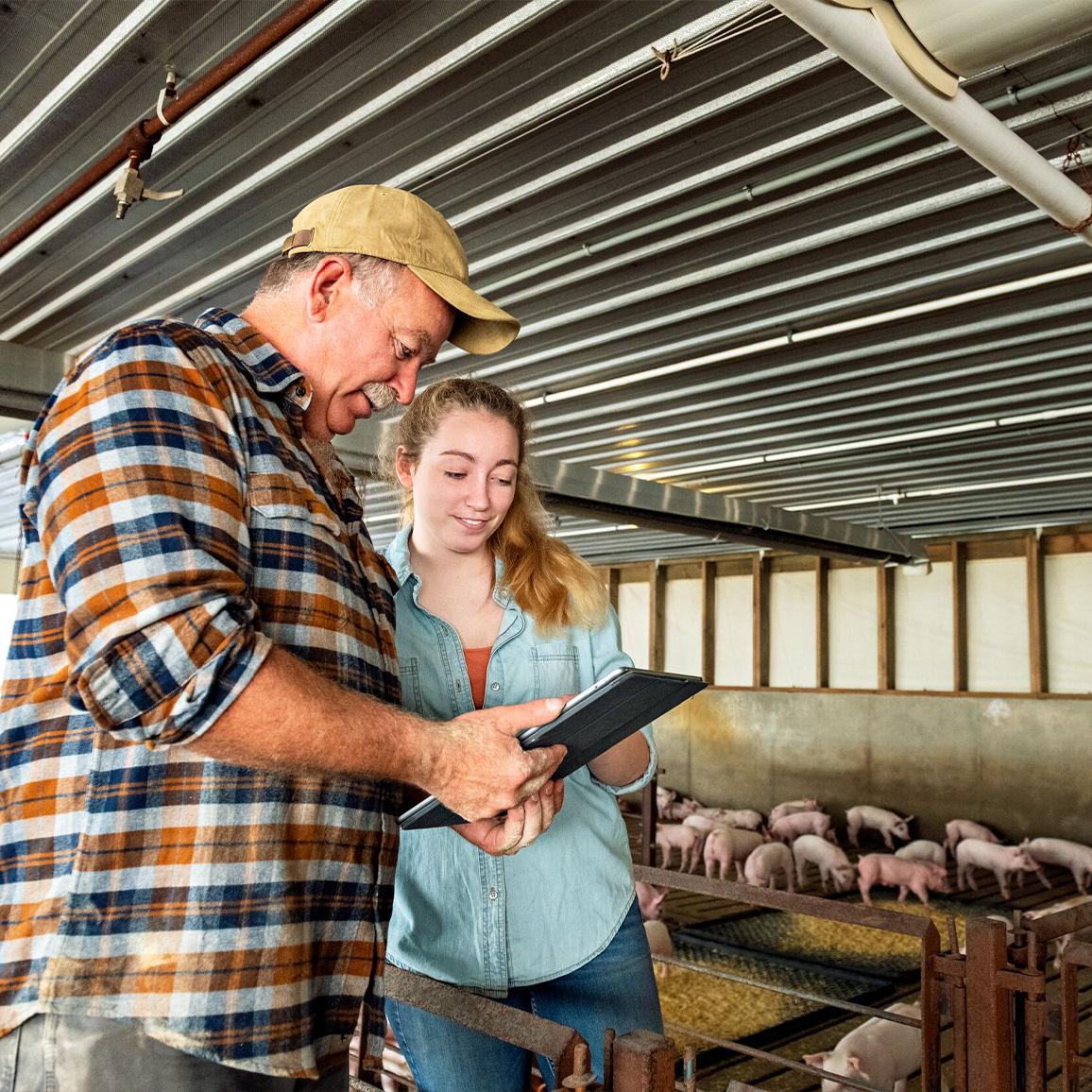 Provide a Safe Work Environment
A safe work environment is possible for employees through education and training. The pork industry offers national training and certification programs such as the Pork Quality Assurance (PQA) Plus*.
Our partners demonstrate their commitment to the We Care principles through PQA Plus certification, which includes training, testing, and an on-site assessment for a thorough review of the farm's facilities, equipment, animal care, and well-being practices. Since the program was launched, we have received 5,145 PQA Plus certifications.
*PQA Plus is a comprehensive food safety and animal well-being program that provides farmers and farm employees with the right resources and proper knowledge to improve farm operations.
Safeguard Natural Resources
Sustainable farming is successful farming. We are focused on doing more with less—our farmers find innovative ways to operate their farms. One way we promote sustainable animal agriculture is through the cycle of using animal manure as a natural fertilizer for crops which, in turn, becomes feed for the animals.
Studies show that compared to 50 years ago, today's hog farmers are using less land and less water to produce pork. NC Pork Council remains committed to protecting our natural resources for future generations.
Contribute to Better Quality of Life for Our Communities
Our farmers take pride in supporting their communities. They make significant contributions to the local economy, volunteer their time and energy to support community organizations, and strive to be good neighbors to those who live nearby.
Many of our farm families have been part of these rural communities for generations. They live on the farm and raise their families there, many hoping to one day pass the farm down to their children. These farmers care deeply about protecting the air, water, and soil and carefully follow all rules and regulations.
At the NC Pork Council, we're here to come alongside you and your family to be transparent about our industry as well as provide the truth about pork nutrition. Explore our resources and learn with us!
NC Pork Report
Stay up to date with our quarterly magazine
The Truth of the Matter
Our special report series tackles the falsehoods of the hog industry
Beyond the Bacon
Keep up-to-date with the latest pork news and blog posts