When the pork industry gathers each year at the annual conference to discuss current trends and pressing issues, the North Carolina Pork Council recognizes those who have made valuable contributions to our industry. They include pioneers who helped set the stage for the industry's success, innovators who continue to push us forward, and emerging leaders who are poised to make a significant impact in the years to come. This is the third blog post featuring one of our six 2018 award recipients.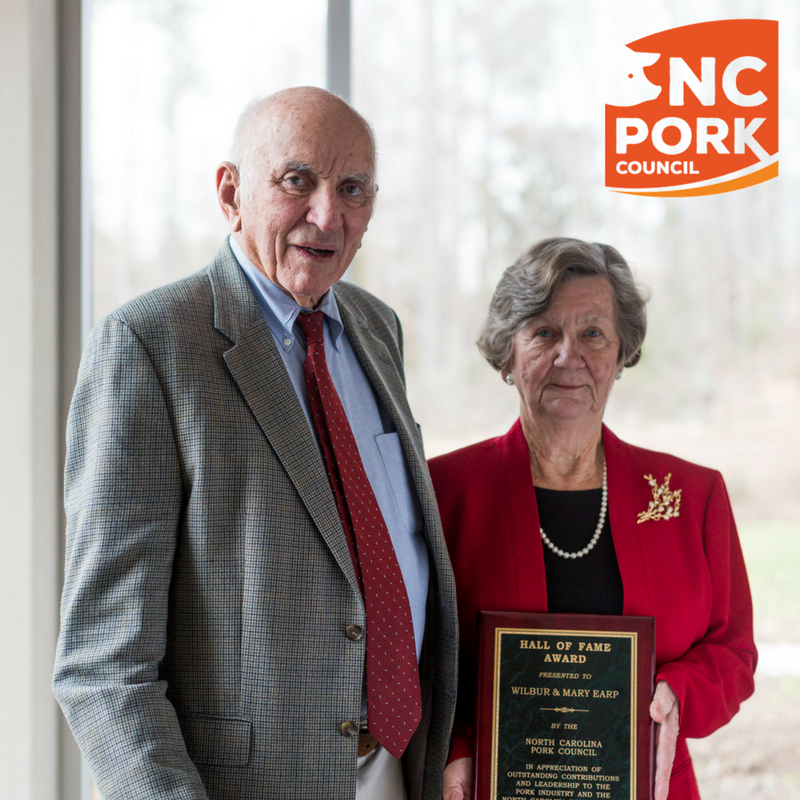 Since their marriage in 1960, Wilbur and Mary have worked side-by-side on the farm that has grown from 250 to 4,500 acres. Earlier this month, together, they were inducted into the NC Pork Council Hall of Fame for their lifetime commitment to the pork industry.
It all started when Wilbur returned home from the Korean War, and purchased his Brunswick County farm. He soon became one of the first in the state to raise hogs indoors. He was even an early member of the North Carolina Swine Producers Association, which later became the North Carolina Pork Council.
"Wilbur is progressive in his thinking, innovative in his practices, and has a proven track record of success as a pork producer. He is a leader within his community that cares about the future of agriculture," said Larry Wooten, president of the North Carolina Farm Bureau Federation. "We take pride in recognizing farmers that are leaders in their communities and outstanding examples of the determination, forethought, and passion that are hallmarks of North Carolina agriculture."
Interestingly enough, it was Mary who nominated Wilbur for the Hall of Fame. However, the awards committee decided that they deserved to be inducted together.
The couple both have a list of accomplishments in the industry. Wilbur was recognized as the Outstanding Pork Producer of the Year and Brunswick County River Friendly Farmer of the Year. Mary served on the Brunswick County Soil and Water District Board of Supervisors, was appointed an ag advisor to Gov. Jim Hunt, and she accompanied the U.S. Secretary of Agriculture on goodwill tours to Europe and South America. For more than 40 years, the couple have introduced farming to the thousands of school children they hosted on their farm for an annual farm day.
Phil Norris, past chairman of the Brunswick County Board of County Commissioners, sent a letter of support of Wilbur's nomination.
Mr. Norris said that "Since the early 1950s, [Wilbur Earp] has been engaged in farming and all of the transition and innovation associated with that practice to remain competitive and successful. He has been invaluable in his community, church and family to improve and leave a lasting impression on them all. He is a good man, neighbor, citizen, businessman and friend."
Perhaps the most telling story of their impact comes from Dr. Locke Karriker, who is the director of the Swine Medicine Education Center at Iowa State.
Dr. Karriker is now leading a center that trains veterinary students from around the world.
"I owe a debt of gratitude to Mary and Wilbur Earp who introduced me to modern pork production," Karriker wrote. "Milton Coleman, the Brunswick County Extension Agent at the time, introduced me and my parents to the Earps who shared their business practice, farm and philosophy. They also showed us what was possible with modern pig production. I made several visits to their farm and found people patient with many questions and working hard to improve at all times. I saw first-hand the importance of animal health, well-being and how much dedication is required to be successful. As a consequence of these visits, I was able to envision a future as a swine veterinarian and I have appreciated their support at many points along the way."
His letter goes on to explain that his swine career has taken him around the world, meeting fantastic people throughout the industry.
But he says, "This path [started] at the Earp's farm."
The Earp's son, Jeff, now manages the farm, which includes 3,000 sows that produce more than 1,200 pigs a week under contract with Murphy Brown. The farm also produces new mothers — gilts raised at Funston Farms then moved once they have farrowed their first litter and weaned the pigs.