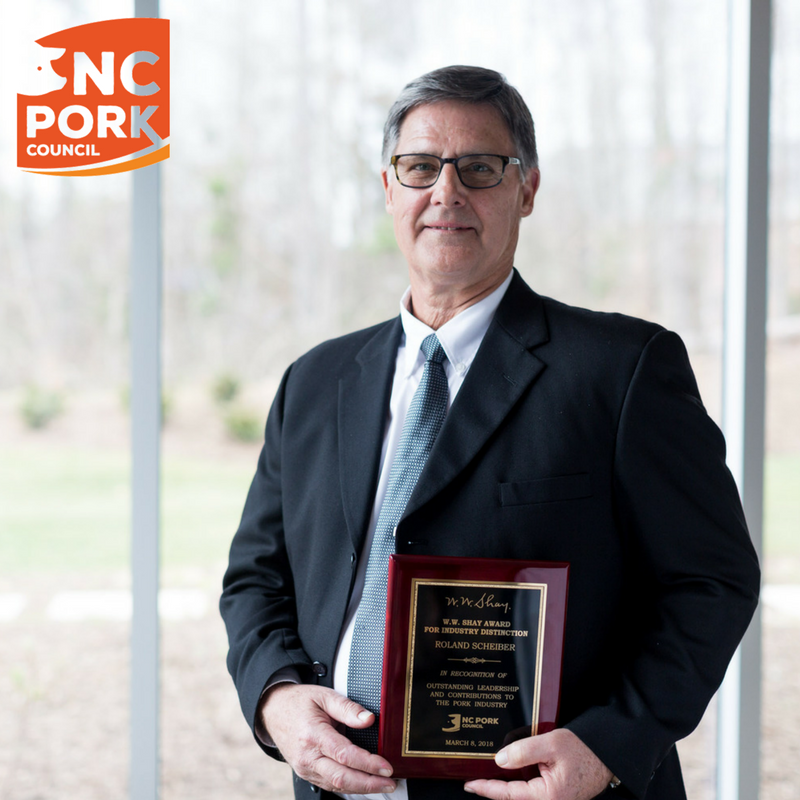 The purpose of the new W.W. Shay Award for Industry Distinction is to recognize and honor an individual who has exhibited outstanding service to the pork industry as an employee of a pork industry company.
This award is named for William Warden Shay, who as the first significant swine extension officer in North Carolina instituted methods and techniques with the singular goal of securing and/or increasing profit for farmers from pork production in the state. Shay's work from 1919 to 1936 laid the very bedrock foundation of the commercial swine industry in North Carolina.
Shay helped create the key breeding associations in North Carolina, as well – and they were the forerunners of today's North Carolina Pork Council.
Anyone who has ever worked with Roland Scheiber wouldn't be surprised that he is the first recipient of this award.
Roland started working on a farm as a young boy in rural Indiana, and he hasn't stopped since.
For more than forty years, Roland has worked in the pork industry for many of North Carolina's best-known companies, including Carroll's Foods, Browns of Carolina, and Smithfield. He currently serves as Production Director at Smithfield Hog Production, where he is responsible for 60,000 sows and the pigs they produce from birth to finish.
His dedicated service to the industry made him an ideal choice to be honored as the first recipient of the W.W. Shay Award for Industry Distinction. The award, named for North Carolina's first swine extension, recognizes a company employee who has exhibited outstanding service to the pork industry.
Roland started his career in Indiana on a 250-sow farm before moving to North Carolina in 1979 to manage sow farms and contract sow farmers for Carroll's. He later led the company's efforts to double its number of sows.
And if anyone is curious if pigs do fly, just ask Roland. His job duties once had him overseeing a cargo plane full of breeding stock on a flight from Scotland to New York.