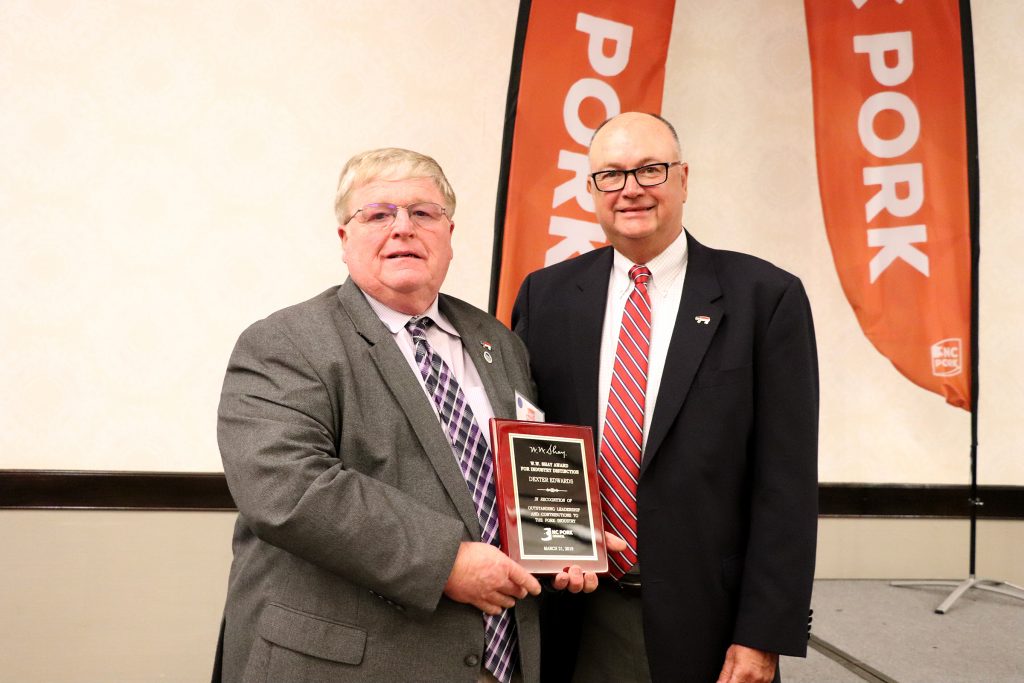 The North Carolina Pork Council's W.W. Shay Award for Industry Distinction recognizes and honors an individual who has exhibited outstanding service to the pork industry as an employee of a pork industry company.
This award is named for William Warden Shay who, as the first swine extension officer in North Carolina, instituted methods and techniques beginning in 1919 with the singular goal of creating and/or increasing profit for farmers from pork production in the state.
Shay laid the bedrock foundation, and others have built upon it.
Dexter Edwards of Beulaville is one of them, and is a most deserving recipient of this award.
Dexter fell in love with pigs as a young boy and made a career of it beginning as a farm laborer in 1976 with Carroll's Foods. It didn't take long before he was promoted to manager of one of Carroll's first swine facilities. Over the years, he held several positions within the company, a trend that continued when Carrolls's merged to form Murphy-Brown LLC.
In his 42-year career in the swine industry, Dexter has been instrumental in getting hundreds of local farmers involved in the industry and helped them preserve their farming way of life through diversification. He also made major impacts on the quality of pork produced. And been a true ambassador for our industry through the many organizations he has worked with.
Sonny Faison, the former president of Carroll's Foods, once said "Dexter has been an outstanding force behind the success of Carroll's Swine Division. Dexter is dedicated to working with our growers and to promoting the swine industry to the public."
As a producer, Dexter took his environmental responsibility seriously, knowing that one day he would pass his operation to his children. He was able to do this in 2012.
Dexter was named the Outstanding Pork Producer of the Year in 1998. He served on the NC Pork Council Board of Directors for two terms in the 1990s and he's actively involved in his community, including as president of the Duplin County Farm Bureau and as a member of the Duplin County Board of Commissioners. His impact will be lasting in other ways, including through the 4th grade "Producers, Pigs & Pork" curriculum in Duplin County, for which he has received national recognition.
We are proud to recognize Dexter Edwards' long career in the swine industry, and the many ways he helped shape our industry into the economic powerhouse it is today, with the W.W. Shay Award for Industry Distinction.