Week 4 took us to the Sandhills to the Pik N Pig in Carthage, where we met up with Stephen Herring and his wife, Ashley. Stephen works for the National Pork Board and his wife works for the N.C. Cattlemen's Association. They were the perfect couple to talk to about one of the trends of the Summer of Cue – brisket. (To clear things up quickly, brisket comes from a cow. Not a pig. But we love our cattle friends and many pig farmers also have cattle, so we don't consider it a slight when someone eats beef. Although for Summer of Cue, we do want to see some pork on the plate, such as ribs, barbecue or sausage.)
Now, in North Carolina, brisket is NOT considered barbecue, and most old-timey barbecue joints don't serve anything but barbecue and chicken. However, brisket is definitely making waves across the state, and not just at newer restaurants. By all accounts, Pik N Pig is an old-timey barbecue joint – they are listed on the Historic Barbecue Trail –  but they do have brisket on the menu. So we talked to Stephen and Ashley about the beef we are now seeing on the menus at barbecue restaurants.
On the way to the Pik N Pig, we listened to the press conference that announced that the N.C. State Fair wouldn't happen this year. Both Tyson and I worked for the fair in previous jobs and our hearts were heavy with the sad news that the fairgrounds would be mostly empty come October. So it was fitting that we were headed to a restaurant that is also one of my staple vendors at the fair. Pik N Pig's Barbecue Sundae is a go-to item that I frequently recommend when someone asks me what they should eat at the fair. The sundae is a layer of pulled pork on the bottom, baked beans in the middle and coleslaw on top. It comes in a cup and it's perfect for walking around. So in honor of the fair, I got the barbecue sundae at the restaurant. And it was just as delicious as I remembered. I'll have to make a return trip in October for another one!
What you need to know: If you have your pilot's license, the Pik N Pig is an easy trip, as it sits alongside the Gilliam-McConnell Airfield. They have a pretty good menu, so even the picky eaters in the group can find something they want to eat. Little kids will be fascinated by the planes coming and going on a pretty day. Right now, indoor dining is closed, but there is a covered patio and more tables scattered throughout the lawn. The airfield also has a small memorial to local aviation heroes and a replica WWII warcraft.
Road trip ideas: Carthage is home to two barbecue restaurants, Pik N Pig and Stubbs and Sons BBQ, so you won't leave hungry. You can do some antiquing in nearby Cameron. Black Rock Winery is open on the weekends for tastings, or you can grab a cold one at Southern Pines Brewing Company. And of course, there are plenty of boutiques and golf in nearby Pinehurst Village.
For more ideas, visit the Pinehurst, Southern Pines, Aberdeen Area Convention and Visitors Bureau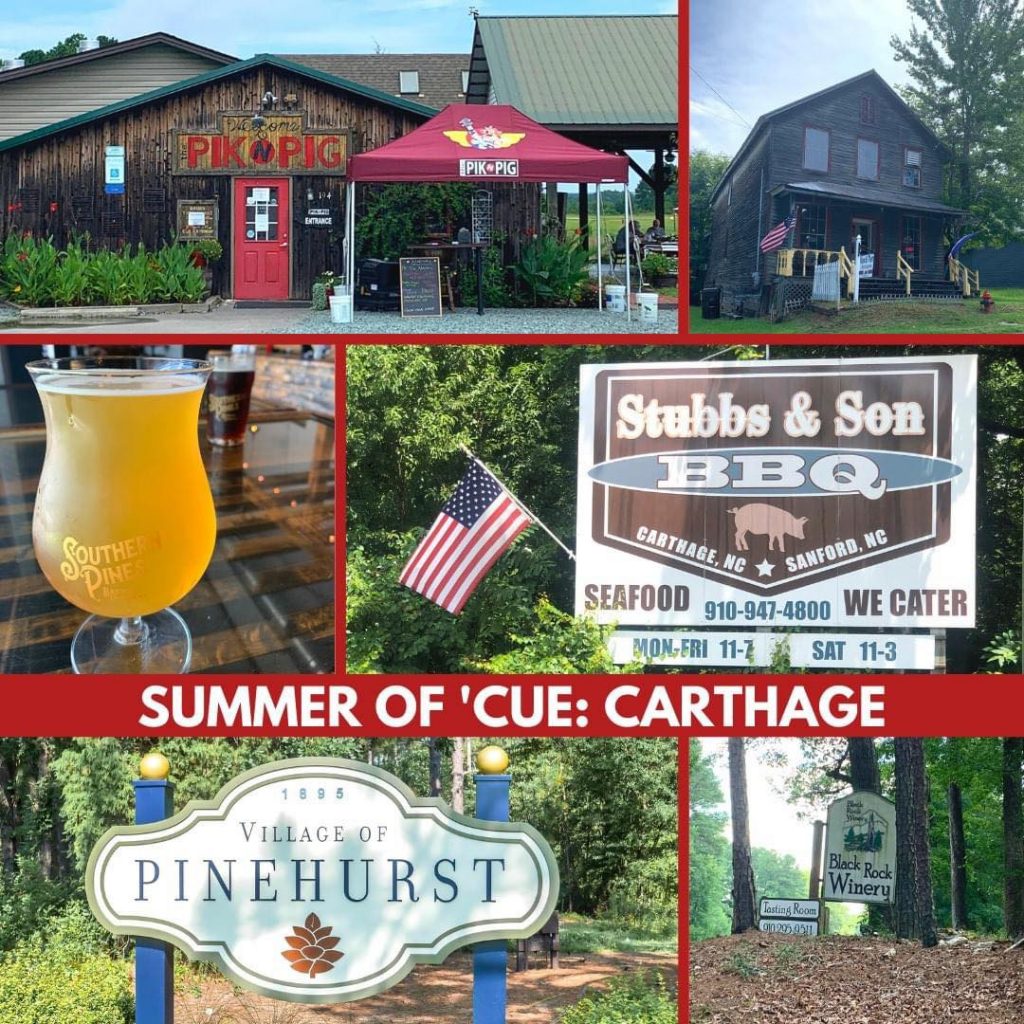 ~Jen Kendrick, director of communications and marketing