February is American Heart Month—a time to for us to turn our attention to "matters of the heart" – our heart health. Heart disease remains the leading cause of death in the U.S., affecting many North Carolina families. Take time to think of those close to your heart, your family and friends, and adopt a heart-healthy lifestyle.
In order to take steps towards a heart healthy lifestyle, the American Heart Association recommends we get active and eat better. You may think eating better is giving up your favorite foods, but the good news is you eat better by adding a variety of tasty food.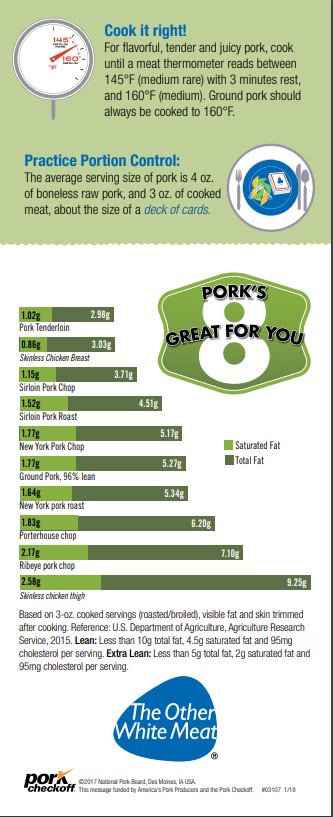 According to the American Heart Association, eating better means including fruits and vegetables, whole grains, low fat dairy, and lean pork, beef, poultry and fish prepared in healthy and delicious ways. Think of the endless possibilities of meals that include these heart healthy foods. As a person who enjoys pork, you can be assured that lean pork is an excellent heart healthy protein choice.
Pig farmers are proud to provide eight lean, delicious pork cuts for your heart health and great taste—Pork's Great 8. These pork cuts meet the USDA guidelines for "lean." You can enjoy pork tenderloin, sirloin pork chop, sirloin pork roast, New York pork chop, 96% lean ground pork, New York pork roast, porterhouse pork chop and ribeye pork chop all for less than 10 grams of fat per 3-ounce serving.
Pork is a perfect partner with other heart healthy foods, fruits and vegetables and whole grains. Ingles Dietitian, Leah McGrath RD, LDN offers this advice for pork in a heart-healthy meal: "Pork tenderloin is a lean and versatile option in the meat case. With little or no visible fat, a pork tenderloin cooks quickly and can be sliced thinly. To reduce sodium, avoid adding salt, and flavor with fresh or dried herbs, pepper and garlic or salt-free seasoning blends. Pair your cooked 4-ounce serving of lean pork with vegetables and a serving of whole grains like brown rice, bean pasta or whole grain/whole wheat pasta, bulgur wheat, or quinoa, for a plate that's high in protein and fiber."
Whether you need a quick, made-in-minutes family meal or have plenty of time to enjoy cooking a family meal, pork can meet your needs in a heart healthy way. Pork's Great 8 are best suited for heart-healthy cooking methods. Unsure of how to prepare pork or need a new recipe? The National Pork Board has videos and recipes to help you with inspiration and new ideas.
As you take time in February to talk of "matters of the heart"—heart health, start a conversation around the dinner table with family and friends enjoying tasty and heart healthy pork in the center of your plate.
~Charlotte Rommereim, RD, LN, LD
South Dakota dietitian and pig farmer
---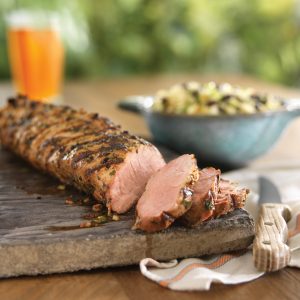 Cuban Pork Tenderloin
1 1/2 pounds pork tenderloin (trimmed)
1/4 cup orange juice (fresh)
1/4 cup grapefruit juice (fresh)
2 tablespoons cilantro (chopped)
1 teaspoon cumin
1 teaspoon dried oregano
2 cloves garlic (finely chopped)
1/2 teaspoon kosher salt
1/2 teaspoon red pepper flakes
Directions
Using thin knife, trim silver skin from tenderloin. Mix orange juice, grapefruit juice, cilantro, cumin, oregano, garlic, salt and hot pepper in gallon-sized zip-top plastic bag. Add pork, close and refrigerate for at least 30 minutes and up to 4 hours.
Prepare outdoor grill for direct medium-hot grilling. For a gas grill, preheat grill on high. Adjust temperature to 400°F. For a charcoal grill, build fire and let burn until coals are covered with white ash. Spread coals and let burn for 15-20 minutes.
Lightly oil cooking grate. Remove pork from marinade, drain briefly, but do not scrape off solids. Place on grill and cover grill. Cook, turning occasionally, until browned and instant-read thermometer inserted in center of pork reads 145 degrees Fahrenheit, about 20-27 minutes. Transfer to carving board and let stand 3-5 minutes. Cut on slight diagonal and serve.