When the pork industry gathers each year at the annual conference to discuss current trends and pressing issues, the North Carolina Pork Council recognizes those who have made valuable contributions to our industry. They include pioneers who helped set the stage for the industry's success, innovators who continue to push us forward, and emerging leaders who are poised to make a significant impact in the years to come. This is the second blog post featuring one of our six 2018 award recipients.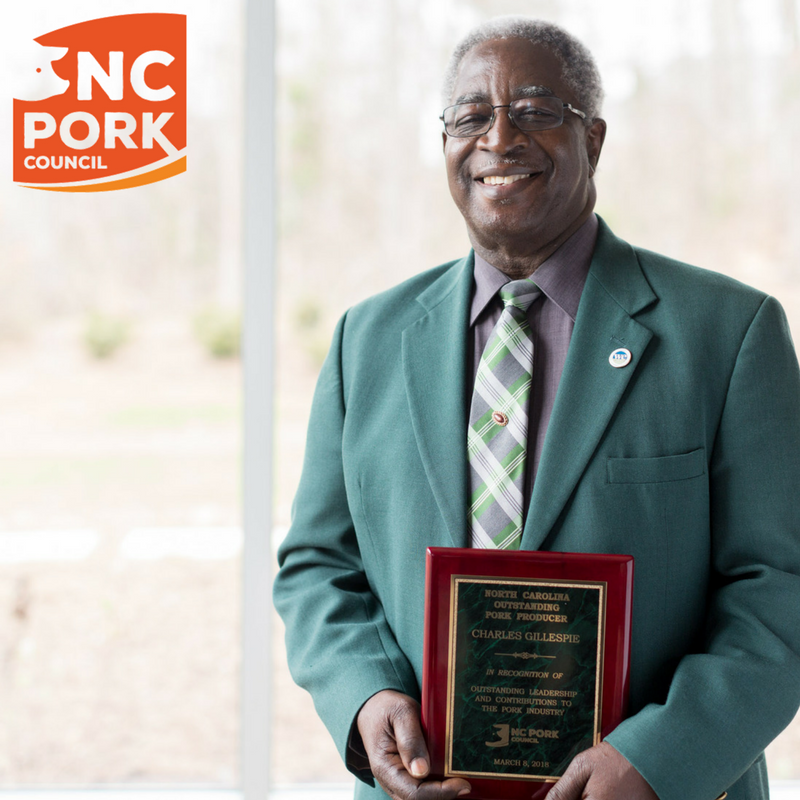 Charles Gillespie, a family farmer from Bladen County with a strong commitment to hog farming, has been honored for his contributions to North Carolina's pork industry. He and his wife, Joyce, own and operate a 75-acre farm where they have been finishing hogs as a contract farmer for Smithfield since 1998. Through the years, they have also grown tobacco, corn, soybeans and peanuts on the farm.
He is active in the Bladen County agriculture community and has earned the respect of fellow farmers for his leadership and enthusiasm.
"Charles has a passion for agriculture and serving others," said Bladen County Cooperative Extension Agent Becky Spearman. "He is always willing to assist the Bladen County Livestock Association and Bladen Cooperative Extension with anything it needs — and does it with a smile."
Charles is an active member of the North Carolina Pork Council, has served on the board of directors of the Bladen County Livestock Association and Bladen County Farm Bureau, and is a Bladen County Soil and Water Conservation Supervisor. He regularly participates in events hosted by the Bladen County Cooperative Extension and is active with his church and other community organizations.