They weren't cooking whole hogs and there wasn't a judge in sight, but in mid-April, cooks from the North Carolina Pork Council's Whole Hog Barbecue Series showed up to provide close to 5,000 servings of barbecue to Inter-Faith Food Shuttle's emergency feeding programs. The barbecue shoulders were provided by the NC Pork Council and the Pork Checkoff.
The nine competition cooks arrived early and spread out in the Food Shuttle parking lot to adhere to social distancing requirements and each volunteer had a health check by a nurse to be sure they weren't exhibiting any symptoms of the coronavirus. With the first half of the Whole Hog Barbecue Series having been postponed or canceled due to the coronavirus, the cooks were happy to get together and catch up from a distance, while helping those less fortunate.
"With COVID-19 and not being able to cook the circuit, it's a great opportunity to come out to fellowship with fellow cooks and cook barbecue for a really good cause," said Kevin Wooten, who qualified and cooked in the state championship last year. "This meat is going to feed a lot of folks and we're just proud to be here to give back and do our part in this time of need."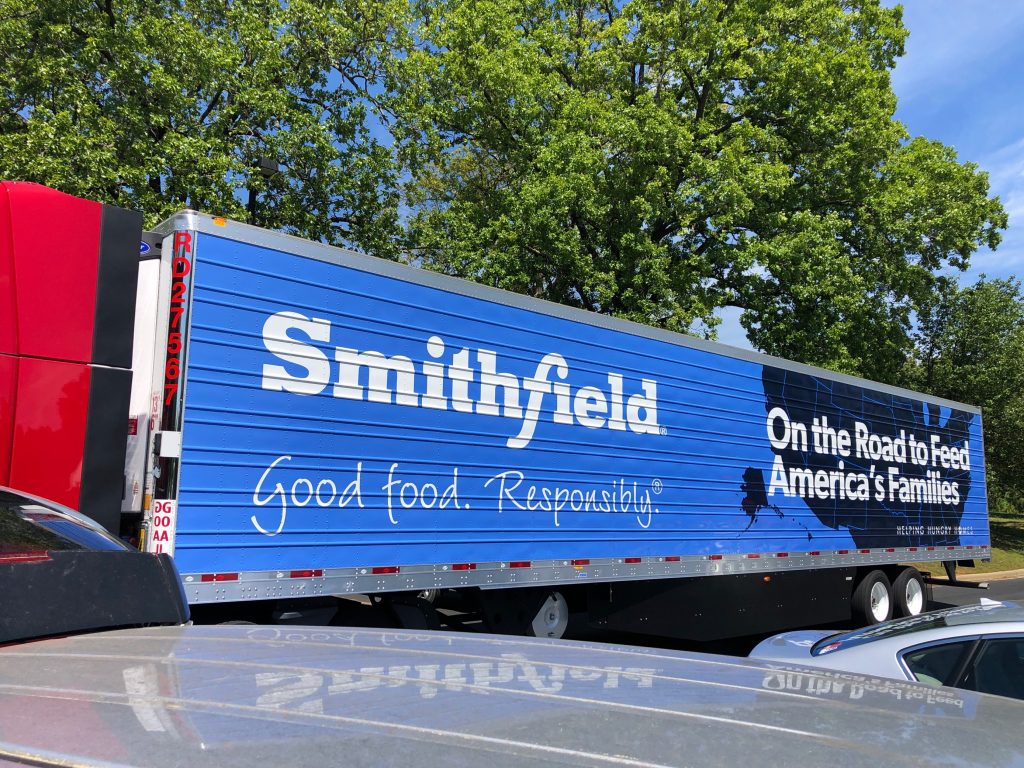 A few hours into the cook, with the parking lot already starting to smell of barbecue, a Smithfield Foods' Helping Hungry Homes truck pulled into the parking lot loaded with about 170,000 servings of protein for Inter-Faith to deliver to their clients through mobile markets.
The donation was part of the company's "Good Food Challenge" in response to COVID-19. Smithfield Foods kicked off the initiative in March with $3 million in cash and in-kind donations in aid to Feeding America. In April, the company announced additional donations of over 40 million servings of protein distributed to the Feeding America network of food banks across the country, of which Inter-Faith Food Shuttle is a member organization.
"The meat that is provided today is going to go a long way in helping the families that we serve—the children and seniors that have been affected by the COVID-19 pandemic," said Rachel Quigley of the Inter-Faith Food Shuttle. "This food will go out to our seven-county service territory over the coming weeks and make a big impact."
Once the truck was unloaded, it was time for the barbecue to be pulled off the grill. The cooks deboned the meat and it was taken into Inter-Faith's commercial kitchen to be chopped and ready to be made into sandwiches.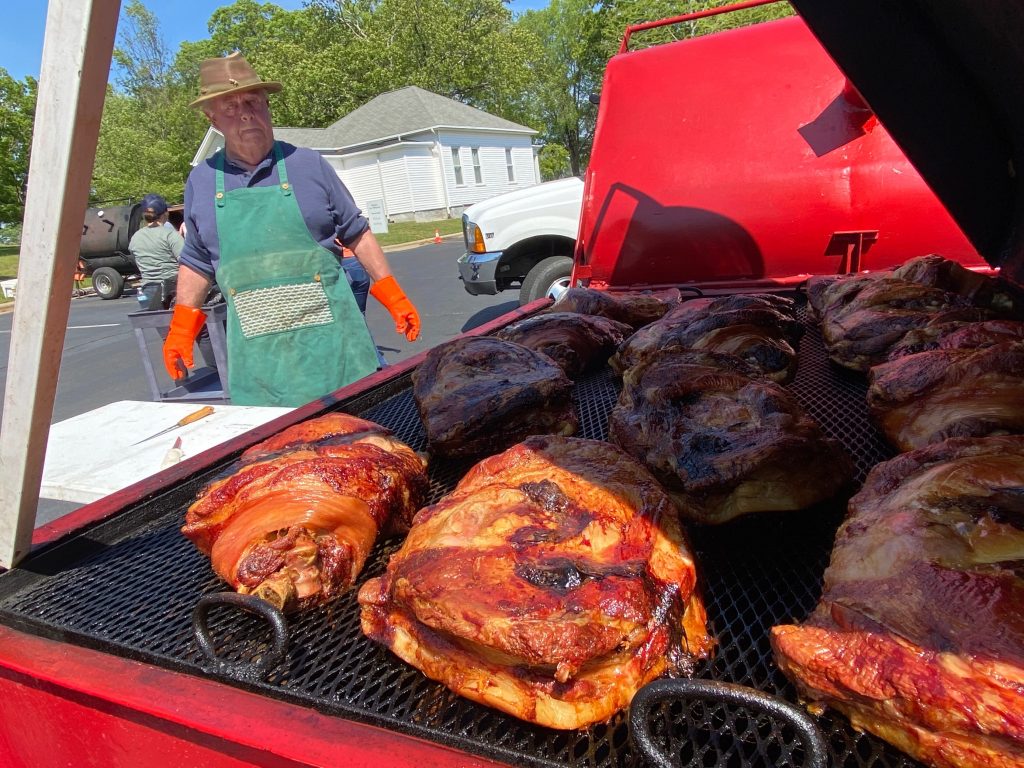 The barbecue, which was flash frozen, will be distributed in the coming weeks through Inter-Faith Food Shuttle programs such as their Mobile Markets, the Mobile Tastiness Machine and through partner agencies such as the Durham Children's Initiative. This protein will serve critically vulnerable individuals and families struggling with hunger during this pandemic.
Friday's event, which was organized by the NC Pork Council, provided a significant boost to Inter-Faith's freezer, even though it won't stay there for long.
"Sourcing needed protein has become increasingly difficult as our supply chains are over extended and donating less," said Bethann James, Inter-Faith Food Shuttle's Interim CEO/President. "Our access to necessary protein items is dwindling. We are grateful for this creative partnership with the NC Pork Council, Smithfield Foods and the National Pork Board to fill a critical need."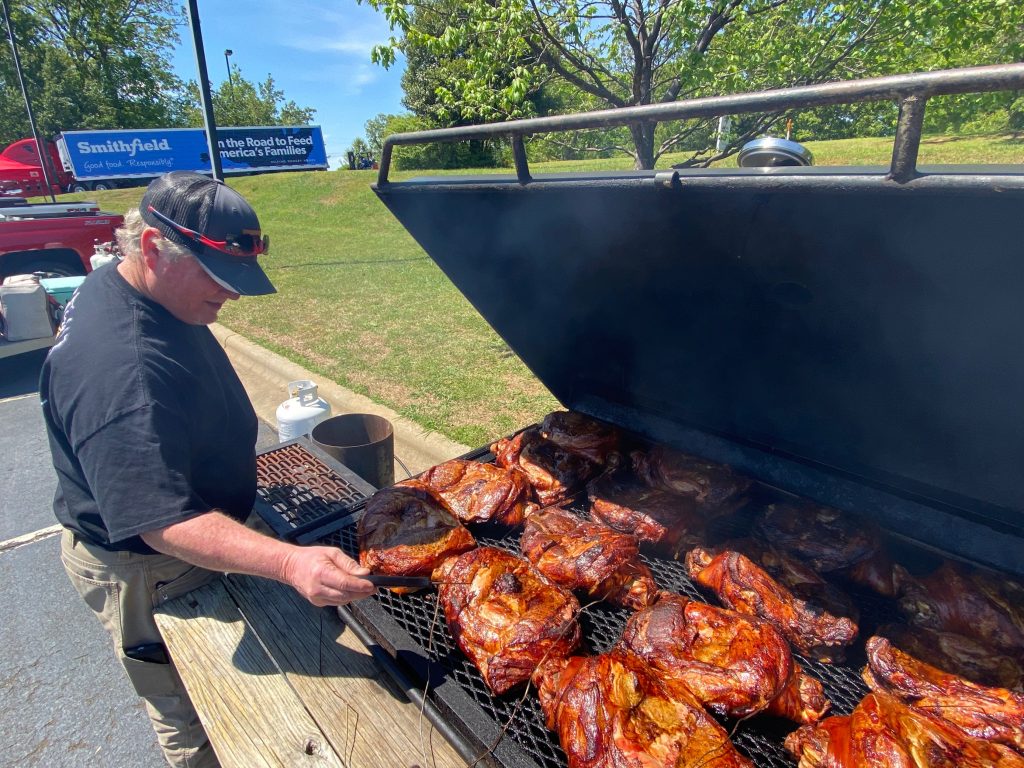 As an essential service agency, Inter-Faith Food Shuttle is continuing its emergency response programs to feed families, children and seniors affected by COVID-19. The demand for their services has sky-rocketed over the past month.
"It's nice to give back to the community, especially when we have a little extra time on our hands where we can give back," said Kevin Peterson, the reigning Whole Hog Barbecue State Champion.