NC Pork Emerging Leader Award
The North Carolina Pork Council Emerging Leader Award is to recognize and honor a pork producer aged 40 or younger who has contributed to the pork industry in North Carolina and exhibits potential for leadership. In previous years, this award was known as the Pork All-American.
Award may be made to an individual.
Nominee must be between the ages of 21 to 40.
Nominee must be a member of the North Carolina Pork Council.
Nominee must be an owner, operator, contract producer, manager or employee engaged in pork production in North Carolina.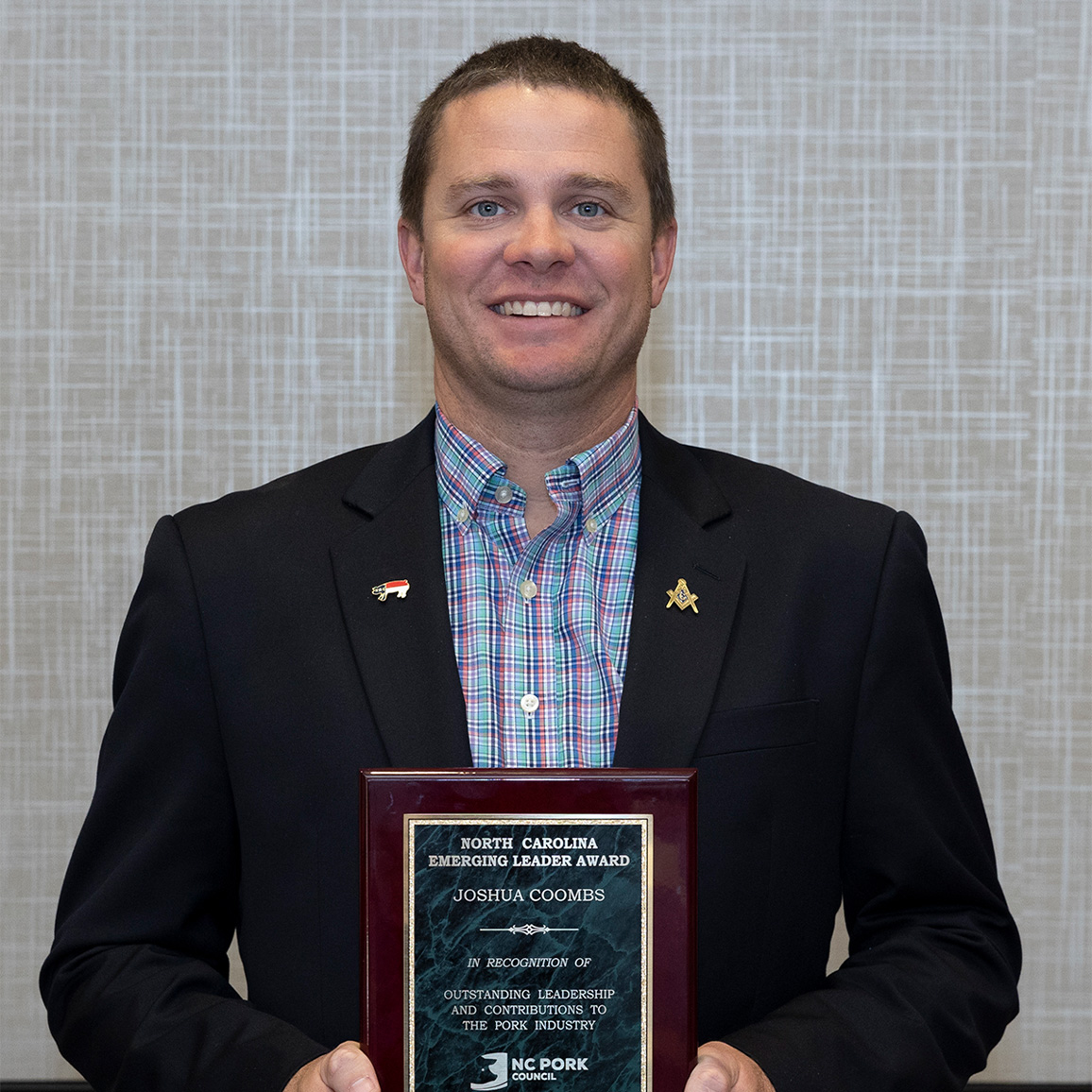 1. Contributions of the nominee to the pork industry through management and leadership ability, including pork producer/agricultural organizations.
2. Contributions of the nominee to the North Carolina Pork Council and involvement in its programs and events such as leadership roles and volunteer support.
3. Demonstrates or exhibits potential for leadership in North Carolina's pork industry.
4. Contributions of the nominee to family and community including church/civic activities and volunteer efforts.
5. Nominee's record of environmental compliance.
6. PQA Plus and/or TQA certified, as well as PQA Plus site assessment as applicable.
7. Awards or special recognitions received as they relate to the nominee's involvement in pork production and agriculture.
Majority vote of the Awards Committee
Please email all nomination forms to Terri Smith at terri@ncpork.org or mail to: NC Pork Council, Attn: Terri Smith, 1401 Sunday Drive, Suite 116, Raleigh, NC 27607.
Past Recipients
1971 – James W. Jackson

1972 – Robert Cox

1973 – Vernon Floyd

1974 – Jesse Riddick

1975 – Wendell Murphy

1976 – Wingate Collier

1977 – Ted Ivey

1978 – John F. Singleton

1979 – Don Smith

1980 – Charles Locklear

1981 – Tony Lee Hale

1982 – Robert Ivey

1983 – W. Charles Gulledge

1984 – Arthur Jenkins

1985 – David Sanderson

1986 – Allan Baucom

1987 – Jimmy Pollock

1988 – Whitley & Janet Stephenson

1989 – Randall Dawson

1990 – Miriam Lewis

1991 – David Overman

1992 – Bill van Staalduinen

1993 – Ben Outlaw

1994 – Jay Humphrey

1995 – Mike Duncan

1996 – Cathy Davis

1997 – Jimmy Neuhoff

1998 – Todd & Deborah Ballance

1999 – Alan Sharp

2000 – Ray Collier

2001 – Waitus English

2002 – Rusty Cox

2003 – Patrick Bell

2005 – Jake Barrow

2006 – Michael Inman

2007 – Neil Strother

2008 – Brian Kennedy

2009 – Cara Winn Lane

2010 – John Garner

2011 – Bo Stone

2012 – Brandon Moore

2013 – Channing Gooden

2014 – Brandon Warren

2015 – Roddy Purser

2016 – Megan Spence

2017 – Cody Coombs

2018 – Marlowe Ivey Vaughan

2019 – Justin & Erica Edwards

2020 – Bailee Arnold

2021 – Dave Overman

2022 – Josh Coombs
Committed to People, Pigs, & the Planet