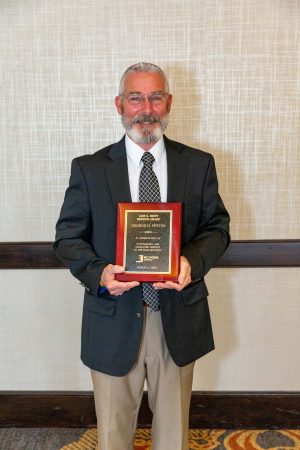 Lois Britt gave of herself to the pork industry and to the community. As the Lois G. Britt Service Award recipient, George Pettus of Asheville has done the same.
George Pettus has provided his expertise in environmental design, engineering, permitting, public policy, nutrient management, best management practices, and compliance to our industry for decades. He is a trusted and respected voice on these subjects across the board.
He also served as president of the North Carolina Pork Council, longtime chairman of the NCPC Public Policy Committee, chairman of the National Pork Board's Environment Committee, National Pork Producer's Council Environment Committee, the Water Pollution Control System Operators Certification Commission. the Environmental Management Commission and as chairman of the Board of Directors of the Agricultural Air Resource Council, the board that oversaw the landmark consent agreement between the EPA and livestock producers.
"In each of these roles, George was a steady, guiding voice on the side of reason, facts, science, and truth," said Nemechek. "In addition, George is humble, kind and caring – and he has devoted countless hours as a regular volunteer in service to feeding the hungry and helping the homeless."
After Lois Britt's untimely death in 2005, the North Carolina Pork Council established an award in Lois's memory to recognize individuals such as Lois for whom service to the pork industry and North Carolina agriculture is a passion.