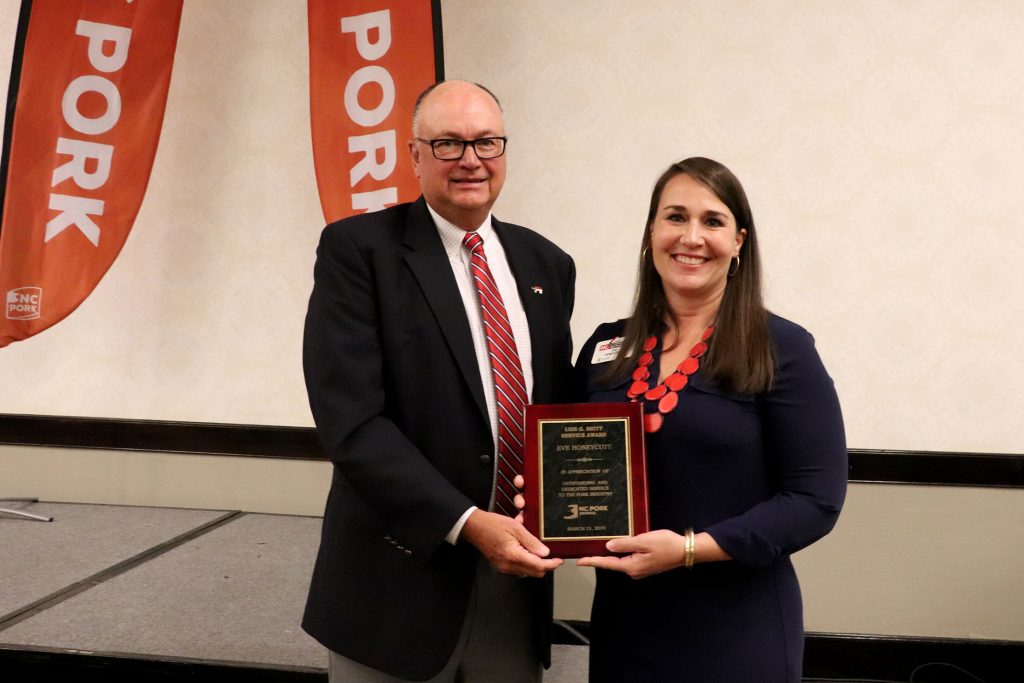 The Lois G. Britt Service Award is named for a dynamic leader who devoted her life to agriculture, education, and service to the people, organizations and institutions in which she believed. There were many.
After Lois's untimely death in 2005, the North Carolina Pork Council established an award in Lois's memory to recognize individuals such as Lois for whom service to the pork industry and North Carolina agriculture is a passion.
This isn't an award that is given every year, and it is only awarded when the executive committee feels there is the right person to receive this special recognition.
This year's recipient, Eve Honeycutt, is certainly special.
In North Carolina, we are fortunate to have many cooperative extension agents who are devoted to livestock. These agents are a resource that farmers can turn to for information about almost anything.
These agents go above and beyond in their responsibilities every day and we are grateful for their dedication and commitment.
Today, we recognize one of them for her can-do spirit and willingness to help, much like the namesake of the award she is getting.
Eve Honeycutt may be a livestock agent for the North Carolina Cooperative Extension, but you wouldn't know it was her job.
Eve works with livestock producers in Lenoir and Greene counties. She works with them on environmental regulations, permit paperwork and other educational programs.
And, she is a passionate defender of the farmers she serves and is a vocal and steadfast supporter of the swine industry.
Perhaps the best example of her desire to help was revealed in the aftermath of hurricanes Matthew and Florence, when Eve organized a staging area for farm donations.
She recognized the need for a location easily accessible for distribution and gathered everything from feed and hay to cat food, disinfectant wipes and fencing supplies. Supplies came from across the southeast and Eve personally oversaw the unloading and loading of donations.
She works with 4-H programs and helps to share her love of agriculture with students. She will serve as chairwoman of the Carolina Swine Circuit this year and coordinates the Coastal Plain Livestock Show and Sale, which brings in about 150 youth from about 10 counties.
She's active in her church, the 902 in Kinston.
It is with great pleasure that we award the Lois G. Britt Service Award to Eve Honeycutt for her outstanding service to agriculture in North Carolina.