This spring, it was my honor to speak to the graduating class at Franklin Academy High School in Wake Forest.
One of my points was to emphasize how important innovation and constant improvement is in any type of business. This includes the American farmer and American agriculture.
Innovation has been a great thing for teenagers who wanted to go to college – which I will get to in a moment – and also for our society.
First, here's some basic historical Census data on the U.S. farm workforce as a percentage of the overall workforce:
1820: 72 percent
1850: 64 percent
1920: 30 percent
1950: 5 percent
Today: 2 percent
That's 2 percent now feeding 100 percent – and, thankfully, many more across the globe.
I posed a question to the Franklin Academy graduates: How did this happen?
My answer was this: The American farmer and, especially, our farmers who raise pigs, are as innovative and progressive as Apple or Google or Amazon.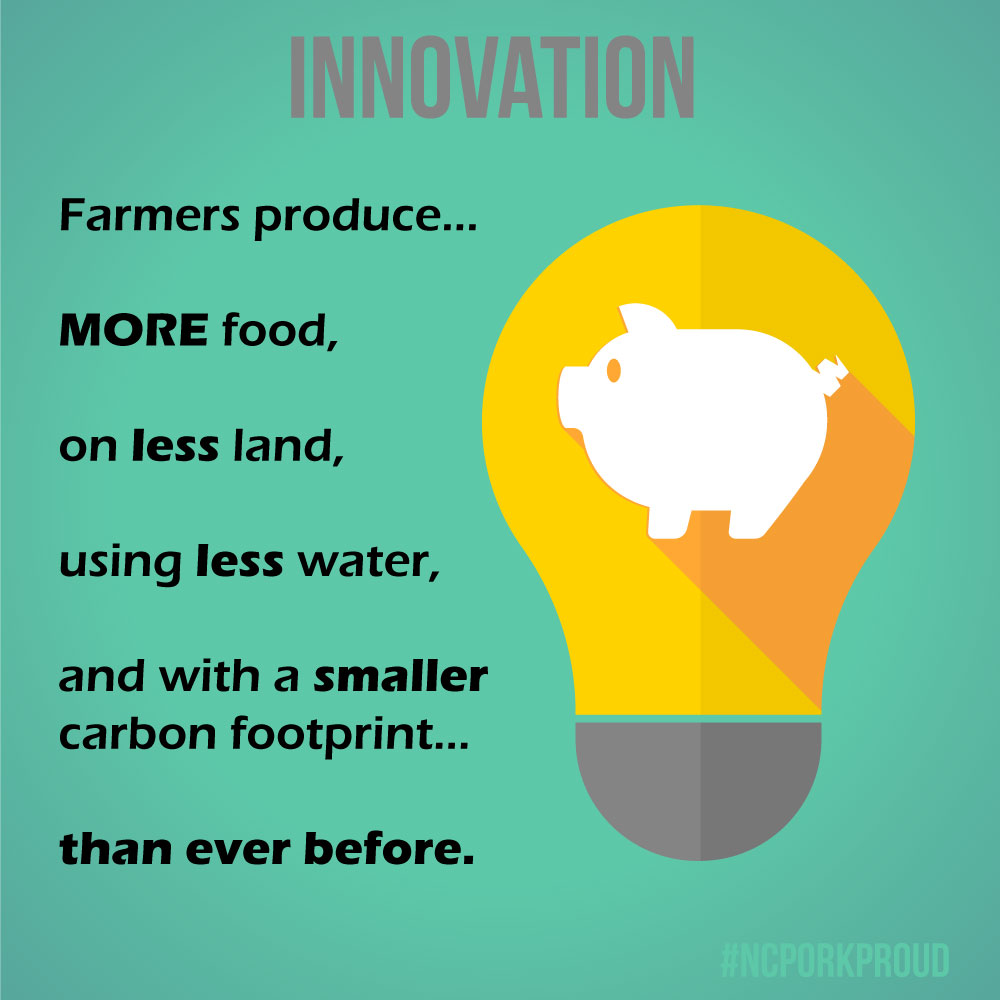 Let me elaborate.
We produce…
more food,
on less land,
using less water,
and with a smaller carbon footprint…
than ever before.
(Here's some background on that.)
How? It's a result of hard work – and tremendous, positive innovation.
We have done this so that we can feed the hungry and that we ensure our society and all people have good, safe, affordable and nutritious protein.
In 1960, John F. Kennedy marveled at the ability of the American farmer to advance and innovate. "Experts from all over the world come to see our farms, to study our techniques, and learn our methods," he told a crowd in Iowa. "And the farm technology we have developed here in the United States holds out hope to the world for the first time that no man, woman, or child on earth needs to go hungry again."
Every day, here in North Carolina and across the nation, there remains an unceasing commitment to continuous and responsible improvement in all facets of producing food and other agricultural products.
Most people don't even think of that when they think of a farmer.
So, please, don't just thank our farmers for caring for their animals, and for caring for the environment so the next generation can raise livestock and crops. Don't just thank them for feeding us – but, yes, we must thank them for barbecue, right? And for bacon.
But we also are thankful for their willingness and ability to innovate.
It is the innovation by our farmers that has allowed parents to send entire generations of students to college and to the military and to other careers in medicine, computer science, engineering, finance, banking, the law – and so on.
College students can thank our innovative farmers as they have taken their seats this month in air-conditioned classrooms.
– Andy Curliss, CEO