As Hurricane Isaias makes its way toward North Carolina, it's a good time to remind the news media about misperceptions regarding pig farms and hurricanes.
As the Associated Press reported last year, hurricanes often spawn storms of misinformation. That includes dire warnings about pig farms from activist groups intent on stoking fears. But history tells a different story. In the past four years, pig farms saw minimal impacts from two of the worst hurricanes to ever hit our state. Despite receiving more than three feet of rain during Hurricane Florence, 98% of treatment lagoons on our farms performed exactly as intended, suffering little or no damage.
It's not by pure luck. During the past twenty years, the pork industry has made tremendous strides in how it prepares for hurricanes. Hundreds of lagoons in flood-prone areas have been voluntarily closed and the industry has been proactive in making hurricane preparations a year-round practice. Long before hurricane season arrives, farmers carefully manage treatment lagoons to maintain adequate storage in the event of heavy rains.
We have urged the media to exercise caution when reporting about pig farms during hurricanes. 
 When you see something negative about our farms during a hurricane, don't be so quick to assume it's true. That applies to photos as well.
Every year, we see media post photos that are incorrectly depicted as flooded hog farms. These photos are often supplied by activist groups who fly planes following storms in search of images that will portray our industry in a negative light.
Here are a few examples of photos that incorrectly claimed to show hog farms: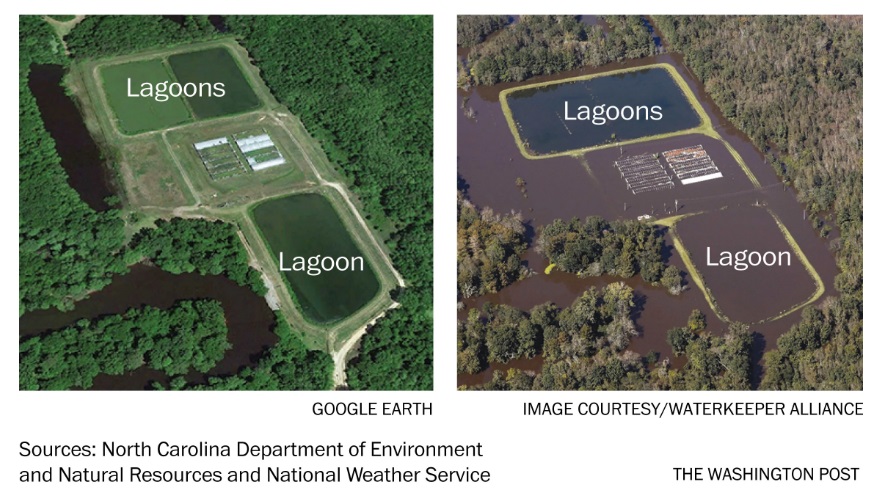 This Washington Post photo above, provided to the newspaper by an advocacy group called the Waterkeeper Alliance, is a flooded municipal wastewater treatment plant — not a pig farm.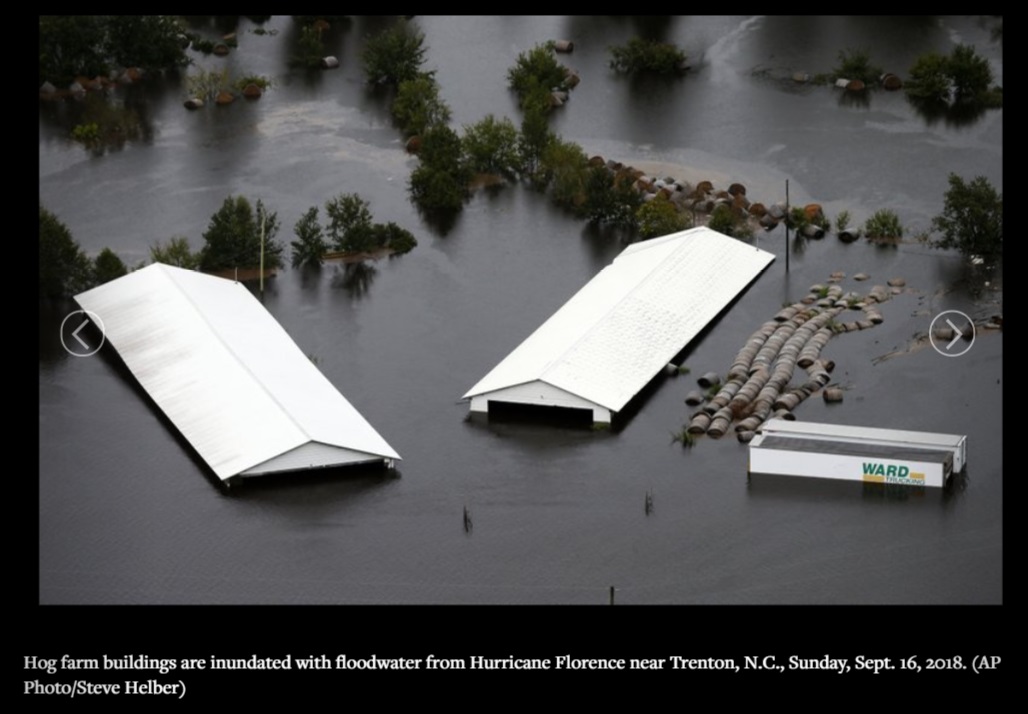 This Associated Press photo above, claiming to show flooded hog barns, is actually a hay farm. (The news agency later corrected its error.)
These images above, aired on statewide and national television networks, claimed to show flooded pig farms. They are actually municipal treatment facilities and poultry farms.
We strive to be transparent about our farms. During hurricanes, we will post regular updates online and share factual details about how pig farms have been impacted by the storm. But history shows us that the impacts are often minimal. Greater threats tend to come from other areas, including municipal wastewater treatment facilities.
In the aftermath of Hurricane Florence, DEQ Secretary Michael Regan said: "We are really focused on our (municipal) wastewater treatment facilities because there are probably orders of magnitude more human waste that has escaped these wastewater treatment facilities than what has escaped these pig lagoons."
This photo below shows how treatment lagoons (identified by the color, which is a result of beneficial bacteria) successfully withstood record flood waters, a credit to the engineers and others who built the farm.