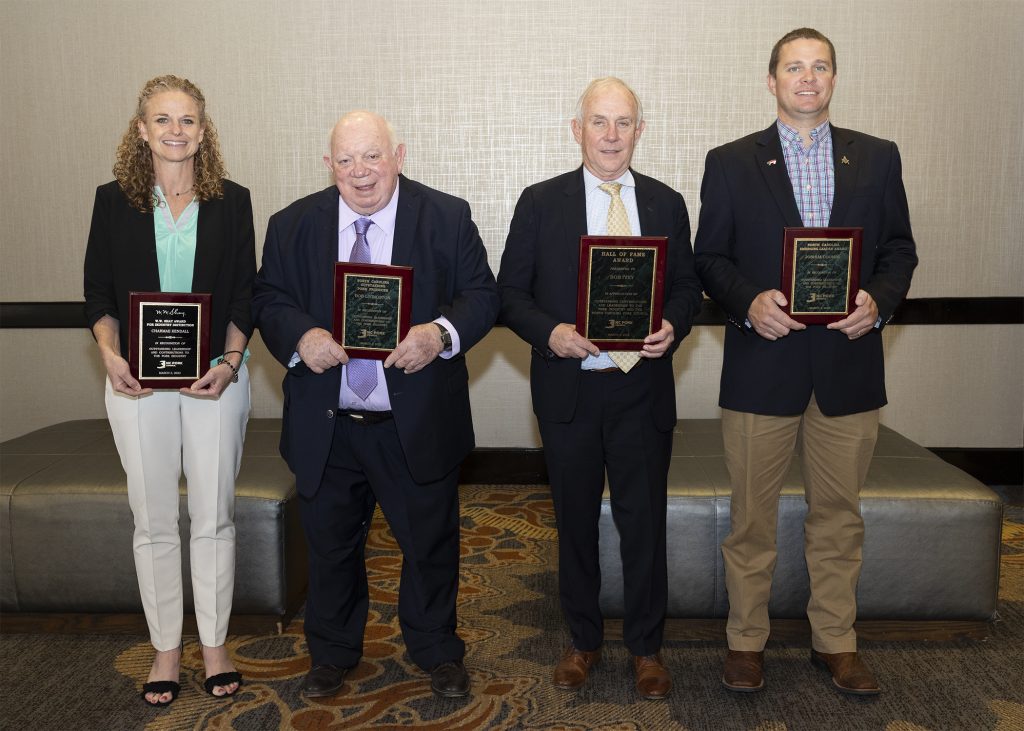 RALEIGH – Four individuals were honored at a recent awards luncheon as part of the North Carolina Pork Council's annual conference. Dr. Todd See, chairman of the conference committee presented the awards along with NCPC President Jared Porter. The following awards were presented: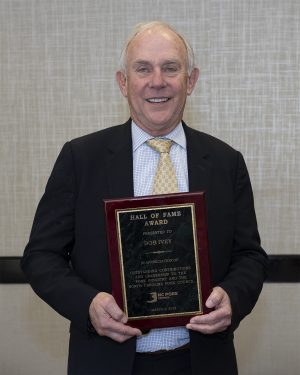 Hall of Fame – Robert W. "Bob" Ivey, Goldsboro
Bob Ivey of Goldsboro was inducted into the NC Pork Council Hall of Fame, the highest honor bestowed by the organization, one reserved for outstanding lifetime achievement and contributions to the industry.
Ivey has been an influential leader in the NC pork industry for decades – and many of the significant advancements of the past 40 years are a result of Ivey's leadership.
In 2011, National Hog Farmer profiled Bob as a Master of the Industry, noting that "In the span of 35 years, Bob Ivey has built three hog production systems from scratch."
And indeed, he did. He built Ivey Spring Creek Farm in Goldsboro that went from specializing in select purebred lines to a four-way crossbreed known for producing silky pork for the Japanese market. Then in 1989, he developed a three-site production concept for Maxwell Foods when that company diversified into hogs. The third challenge was when he developed a 20,000-sow production system for Maxwell in Indiana.
The record shows, again and again, that Ivey has brought an innovative, science-based approach to the industry, including in adopting and adapting for pen gestation across a large production system. And he remains active in the genetics segment of the industry to this day, through his ISCF genetics business.
Ivey worked closely with fellow Hall of Famer Charles Stanislaw at NC State University to use data and computers to tabulate performance data on boars and gilts, which eventually led to Bob serving on the National Swine Improvement Federation board of directors.
Ivey has also been a front man in biosecurity and state animal response planning efforts as past chairman of the NC Swine Disease Task Force. Through all of these efforts, Bob's work has helped our state's pork industry to be one of the most well-prepared in the country.
He has been instrumental in providing leadership to not just the North Carolina Pork Council, but the National Pork Board and the National Pork Producers Council. As a NC Pork Council board member, he was named "Pork All-American" in 1982, and then he served on the NPPC board from 1984-1990 and then on the first NPB board when it was formed, from 1990-1996.
Ivey remains active, serving as a board member for both NPPC and NCPC, evidence of the trust and respect he has earned. He passed his love of the industry to his daughter, Marlowe, who was honored a few years ago by NC Pork as an Emerging Leader – further evidence of Ivey's interest in passing to the next generation all that is good and needed in our industry.
In nominating Bob, former NC Pork Council CEO Andy Curliss, who said that he had studied the industry, including reading meeting minutes of every board meeting of the NC Pork Council. "And it is based on this knowledge that I can write with confidence that Bob Ivey is more than deserving, is more than qualified and far exceeds all of the high standards that we have sought when deciding to admit an individual into the North Carolina Pork Council Hall of Fame."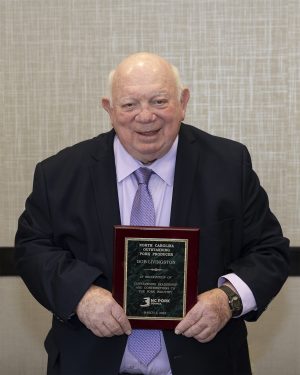 Outstanding Pork Producer – Bob Livingston, White Oak
The North Carolina Outstanding Pork Producer of the Year award recognizes a pork producer or family who has made significant contributions to the pork industry in North Carolina.
A passion for agriculture and people is what drives Bob Livingston to be the best hog farmer he can be and a deserving recipient of this year's Outstanding Pork Producer Award.
Livingston and his wife, Jean, own Turnbull Company LLC in White Oak where they operate a 2,400 head sow farm through Smithfield Hog Production where they consistently rank in the top 5 for production for sow farms.
"Bob and the farm manager, Antonio, lead by example, working in a safe manner to show what is expected of all employees," said Bladen County Extension Director Becky Spearman, who nominated Livingston for the award on behalf of the Bladen County Livestock Association. Safety is the number one priority on the farm.
The second priority of Turnbull Company is to treat each other with dignity and respect. Livingston goes above and beyond for his employees by providing opportunities for career growth and continuing education within the industry. Livingston works to acknowledge and celebrate the different cultures of his employees by learning to speak the various languages of his employees such as Russian, Polish, Czech and Spanish. By doing so he is better able to connect with these individuals and assist them with events in their personal lives, such as doctor appointments or parent-teacher conferences. He also provides farm-assisted housing for most of his employees.
"These aren't just average workers, but the one-in-ten-thousand type of people," Livingston said of his employees. This investment in his employees contributes to the farm's low turnover rate, with many of them having more than 20 years of service. At the awards luncheon, Livingston spent his acceptance speech bragging on his employees.
Whether you are talking about his genuine investment in his employees, his farm production records or his passion for being a leader within his community, Bob Livingston is a worthy recipient of this year's Outstanding Pork Producer Award.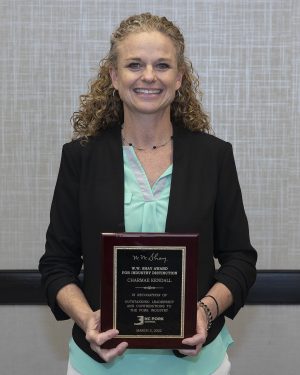 W.W. Shay Award for Industry Distinction – Charmae Kendall, Magnolia
In order to receive the W.W. Shay Award, one must exhibit outstanding service to the pork industry, and throughout her career, Charmae Kendall of Magnolia has done just that.
In the words of her nominator, Morris Murphy, "Charmae Kendall is arguably one of extension's most valuable employees, and certainly one of the hardest working. The drive and hard work that she puts in to teaching youth about the agriculture industry is unmatched. She never sits down until all of the work is done, frequently giving more of herself than what is expected."
Originally from Indiana, Kendall and her husband moved to North Carolina for his career, and in the move, she found a home with the North Carolina Cooperative Extension Service. Initially working with the Sampson County Extension Office, she worked to accelerate their youth livestock program before moving to the Duplin County office where she continues to share her passion for agriculture.
Kendall uses her skills to connect with youth and educate them about livestock. She plays a key role in the Duplin Grows event, where she and other volunteers provide every third-grade student in Duplin County Public Schools the opportunity to interact with local agribusiness professionals while gaining exposure to agriculture. During the spring and summer months, you can often find her taking students around the state to farms where they learn how to judge livestock in preparation for 4-H judging contests.
One Kendall's most-known projects is the Duplin County 4-H Pig Project. This project, now in its fifth year, is a partnership with Smithfield Hog Production in which 40 local children are introduced to the swine industry as they learn how to care for and show pigs over an eight-week period. At the end of the project, the pigs are shown at the Coastal Plains Livestock Show and Sale. Without her creativity and determination, projects like this would not be possible.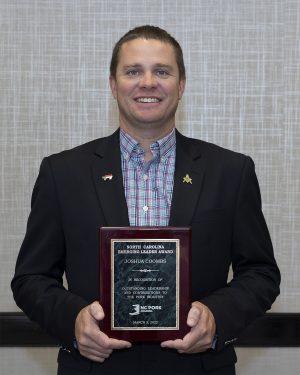 Emerging Leader: Josh Coombs, Clinton
The purpose of the North Carolina Pork Council Emerging Leader Award is to recognize and honor a pork producer aged 40 or younger who has contributed to the pork industry in North Carolina and exhibits potential for leadership. This year's recipient is Josh Coombs of Clinton.
Coombs was born and raised in Sampson County on a farm started by his great grandfather. His grandfather introduced hogs to the farm and then his father later transitioned to a modern hog farm, contracting with Prestage Farms.
Coombs abruptly inherited the farm and all of the responsibility when his father was killed in a car accident shortly after Josh got married. In time, he and his wife Jessica have expanded the farm to from four barns to 12 and added four nursery barns.
When he's not working at the farms, Coombs is a full-time fireman for the Clinton Fire Department, where he has served for more than 18 years.
Josh has served on the North Carolina Pork Board for two years and has been willing to share his story and his farm to help others understand the commitment of North Carolina pig farmers. In 2018, the National Pork Board featured Josh in a video as part of the Real Pig Farming campaign. He was featured in another video produced by Feed the Dialogue that focused on the sustainability commitment of farmers. In conjunction with Feed the Dialogue NC and the NC Pork Council, Coombs hosted a media tour on his farm to give reporters a firsthand look inside of a barn and next to a lagoon.
In addition to his work at the fire station and with the industry, he is a Mason through Hiram Lodge #98 as well as a Sudan Shriner in Clinton.  He currently serves on the NC Pork Council nominating committee. He and Jessica have three sons – Jett, Wyatt and Jensen – and they are expecting a daughter this year.
"I enjoy sharing farm life with my boys, in hopes they will want to follow in the family footsteps one day," said Coombs.