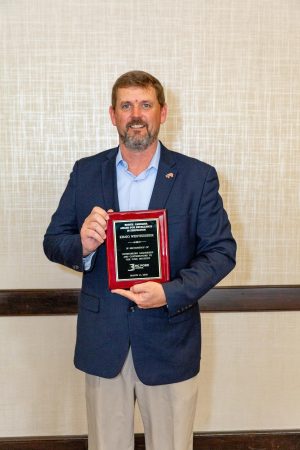 The Award for Excellence in Innovation was given to Kraig Westerbeek of Warsaw.
"Kraig has been at the forefront of a range of continuous improvements across the industry and is a recognized leader in the field of environmental stewardship in pork production," Nemechek said.
After graduating from NC State, Kraig started with Murphy-Brown and has progressively increased his roles and responsibilities, including as vice president for environment, engineering and support services for the Smithfield Hog Production Division. He was responsible for the company's outstanding record of compliance with state and federal rules and regulations.
Today, he leads Smithfield Renewables, an innovative platform that is focused on carbon reduction and renewable energy efforts. Kraig has been instrumental in the ongoing efforts to capture biogas and create value – a rare opportunity that aligns farmers, food processors, policy makers, neighbors, consumers and more as biofuel is captured and made available as a power source for communities.
With Kraig's leadership, Smithfield announced this year that the company had exceeded its aggressive goals for engaging its grain supply chain in implementing farming practices that are both more sustainable and cost efficient.
Kraig also serves as a member of the North Carolina Pork Council board of directors and the National Pork Producers Council board of directors.
The Award for Excellence in Innovation was created to honor and recognize individuals or institutions for progress in the pork industry through innovative techniques, applications and/or action that include but are not limited to environmental stewardship, sustainability, research, science, and other related advancements.