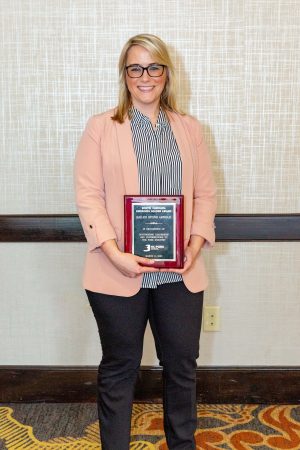 Bailee Arnold has shown both a passion and a commitment to excellence on the farm – and in sharing the story of agriculture, which has earned her the Emerging Leader Award.
Bailee is originally from Nash County, but currently lives in Winterville. She attended Barton College and then transferred in 2011 to the NC State Ag Institute. It was there that she fell in love with pigs while taking Dr. Billy Flowers' swine production course.
She counts Dr. Flowers as one of the inspirations of her life, along with her father and her mother. She also counts as a trusted mentor Jan Archer, who helped her secure an internship at Maxwell Foods, which led to a full-time job.
She has managed six separate 2,000-head farms for Maxwell and she has managed a sow farm since 2015.
In 2019, Bailee was named a Pig Farmer of Tomorrow by the National Pork Board. That award recognizes farm leaders, ages 18-29, who intend to make pig farming their life's work and who are committed to raising pigs using the pork industry's We CareSM ethical principles. Bailee and two other winners made appearances at Pork Checkoff events throughout the year and shared their stories through the National Pork Board social channels.
The purpose of the North Carolina Pork Council Emerging Leader Award is to recognize and honor a pork producer aged 40 or younger who has contributed to the pork industry in North Carolina and exhibits potential for leadership.