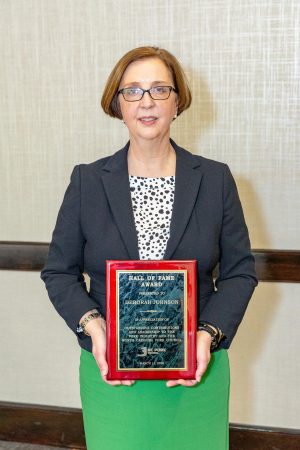 Deborah Johnson of Clinton was inducted into the North Carolina Pork Council Hall of Fame. She has represented the North Carolina pork industry on the local, state and national levels. And she has done so with tenacity, loyalty, grace and intelligence, according to Nemechek.
"Deborah's greatest skill is her ability to communicate with everyone she meets with grace and compassion," said Jan Archer, who nominated Deborah for the award. "She is equally comfortable leaning on a farm fence talking about barnin' tobacco as she is with talking to the governor about the vital role pork plays in our state's economy, as she is walking the halls on Capitol Hill in DC."
Indeed, Deborah's deep experience has allowed her to analyze and communicate clearly and persuasively.
Deborah has been a leader at Prestage Farms, Premium Standard Farms, Cape Fear Farm Credit and the North Carolina Ports Authority.
She has long been an integral part of important boards in the state, including the Sampson County Friends of Agriculture, the Agricultural Foundation at NC State and the NC Cooperative Extension's State Advisory Council.
She served as a board member and president of the North Carolina Pork Council, as a board member on the National Pork Board, and as the chief executive officer of the North Carolina Pork Council for 11 years.
"This induction into the North Carolina Pork Council Hall of Fame recognizes passion and service to the pork industry – and Deborah Johnson has given so much of both passion and service for so many," Nemechek told the gathering. "We are grateful for her past service as CEO of our organization, in her many other roles of service to producers and the industry, and for her passion on our behalf that extended to the national level."
The North Carolina Pork Council's Hall of Fame is the highest honor bestowed by the organization, one reserved for outstanding lifetime achievement and contributions to the industry.