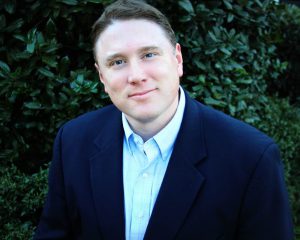 RALEIGH – The N.C. Pork Council announced today that Andy Curliss has been appointed the organization's new chief executive officer. Curliss, a former journalist, brings extensive experience in public policy and communications to the N.C. Pork Council.
"Andy has the talent and expertise to help us highlight the important contributions of the pork industry and our dedicated farmers," said Stephen Williamson, chairman of the N.C. Pork Council board of directors. "He brings a unique perspective and valuable skill set that will benefit our organization."
Curliss fills the opening created in June when CEO Deborah Johnson announced she was leaving the N.C. Pork Council after 11 years. He assumes the new role on November 14.
"I will be proud to represent an industry that is so vital to North Carolina's economy," Curliss said. "I look forward to working alongside the farmers and production companies who are responsible for bringing bacon, barbecue and other popular pork products into our kitchens and dining rooms."
"Deborah deserves a big 'thank you' for her tremendous leadership," he added. "She built strong relationships across the state and served as an outstanding representative for the pork industry."
Curliss has most recently led the public affairs and strategic communications division of Gelia, a national marketing communications agency with offices in Cary. He advised clients on subjects such as public policy, issues management, and coalition building.
Before joining Gelia, Curliss was a fixture at The News & Observer of Raleigh for nearly two decades as an editor and reporter who closely covered state government and reported on rural North Carolina. His reporting earned numerous national and regional awards, including recognition as a finalist for the Pulitzer Prize. He left the paper in 2015.
Curliss is a graduate of the University of Toledo in Ohio. He is currently pursuing an MBA degree at East Carolina University.