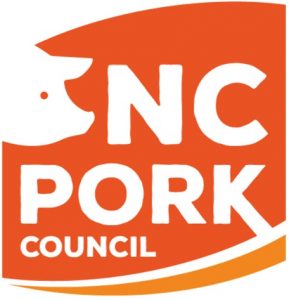 The third hog farm nuisance trial, now underway in Raleigh, sure is confusing – especially about odor and what the plaintiffs are saying about its source.
First, a bit of background. The lawsuit now being advanced in court by the Texas lawyer was originally against four hog farms. One was recently dropped (after years of time and effort). Another farm doesn't even have hogs on it.
And so the case before the jury really only deals with two farms in Pender County, which are called Greenwood 1 and Greenwood 2. They've had different owners over the years, and went by different names.
Now, there are six people suing the farms. Several have testified, generally saying they get some odor from the farm occasionally, while also complaining a bit about flies, and that they hear trucks and see buzzards. One neighbor, not a plaintiff, described the odor as about as bad as anyone could – saying it was just shy of the smell of a dead body. The media can't get enough of that.
One plaintiff acknowledged that he has two horses in his yard. He said he doesn't shelter them, which he said means he does not have to take any steps to deal with the manure. Photos showed the horses in a trampled area, with plenty of manure, next to his home. But he's suing a hog farm more than a half-mile away.
If that's not confusing, then what's next truly must be.
You see, several days ago, the Texas lawyer was outlining for the jury of 10 women and 2 men (who aren't too familiar with farming) how bad it must be down there on Piney Woods Road in Pender County, describing in negative terms how the hog manure is applied to a crop.
Imagine, he told the jury, if this happened with human waste. There would be an outcry!
Except.
We don't have to imagine.
You see, the two farms at issue were carved from less than 100 acres of a tract totaling about 500 acres.
And the remaining land?
It long been used for human biosolids and other types of waste application – entirely legal and regulated, by the way. Most people don't think of where such "biosolids" go, but they are indeed used as a fertilizer on a crop like hog manure is used as a fertilizer on a crop.
In Raleigh, some biosolids now go on soybeans in one spot – because it turns out that using the biosolids to fertilize sunflowers was way too popular.
And so there you have it. In this case, you don't have to imagine at all.
Here's an overview that shows the general area with the two farms at issue (labeled 1 and 2 in yellow) and the six plaintiffs (labeled with red numbers).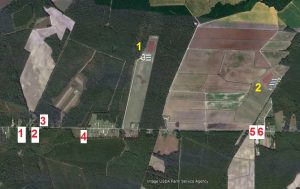 By the way, that photo above is 2 miles across.
And it's 1.5 miles from top to bottom.
That is, it's a very large area.
How large?
Well, here, is a look at the same sized area in Raleigh. It includes Carter-Finley Stadium, the PNC arena, the State Fairgrounds, the N.C. State College of Veterinary Medicine and its adjacent farm, plus more office complexes and neighborhoods nearby.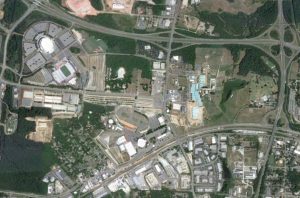 Indeed, it is hard to imagine the vastness of the area at issue. (That underscores another frustration with the trial: It would be helpful if the jury could visit, but the Texas lawyer objects to it and the judge won't allow it.)
One final point.
A professor who has testified in the trial, Steve Wing, has said that he believes hog manure can, at times and in the right conditions, be a nuisance to neighbors.
But Wing himself has also said and published papers that say biosolids application can also be a nuisance. No different than hog manure application.
Which brings us back to Piney Woods Road, where both are occurring.
The plaintiffs are telling the jury their problem is not the biosolids.
And, for some, it's not even the horse manure right in their own yard.
It's only the hogs, they claim.
And it's only the hogs, they say, that are so bad that they and the Texas lawyer should be paid millions of dollars.
Confused?
– Andy Curliss, CEO