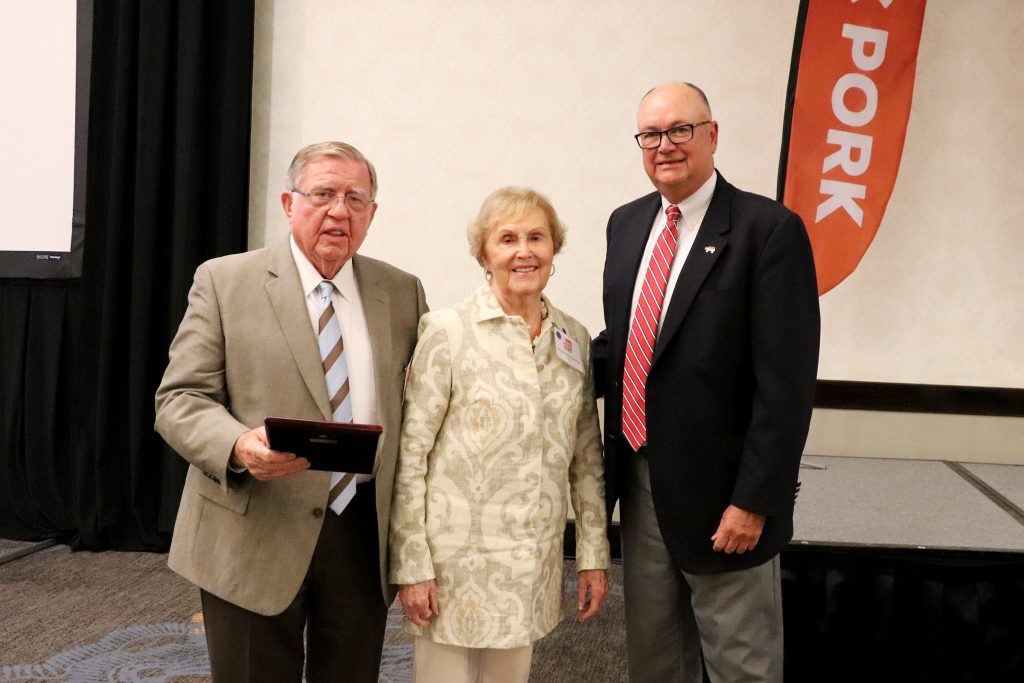 The Award for Excellence in Innovation was created to honor and recognize individuals or institutions for progress in the pork industry through innovative techniques, applications and/or action that include but are not limited to environmental stewardship, sustainability, research, science, and other related advancements.
This year's recipient is a company many of us know well – Hog Slat, which this year is celebrating 50 years of innovative practices.
Hog Slat began in 1969 when Billy Herring was operating a farrow-to-finish farm near Newton Grove and couldn't find appropriate flooring for the nursery he wanted to build.
Relying on his ingenuity and experience, he constructed his own slats.
For many, that would have been the end of the story.
Instead, other producers noticed the quality of his product, called on him for help, and a small family business was born.
For many, that too might have been as far as it went.
But today, because of a constant focus on the innovative process – and because of a commitment to continuous improvement not for the business but for its customers – Hog Slat is a much larger company and one that produces a full range of hog and poultry farming equipment.
The company has expanded its business footprint from Sampson County to 24 states and 7 countries.
Within the United States, Hog Slat operates six concrete manufacturing plants, four equipment manufacturing plants, two distribution warehouses and 87 retail locations.
Internationally, the company has replicated its U.S. business model throughout Mexico, Eastern Europe and China to become a global leader in the hog and poultry industries with nine slat manufacturing facilities, two steel equipment plants and 14 retail/distribution locations.
The same innovative spirit that led Billy Herring to manufacture that first concrete slat in 1969 is embedded in the DNA of Hog Slat that thrives today, 50 years later.
This dedication has let Hog Slat to produce industry-leading product lines of penning equipment, feed delivery and storage systems, ventilation systems and flooring systems for swine and poultry. These developments have enabled Hog Slat to deliver complete facilities to its customers, start to finish.
Pork and poultry producers from around the globe look to Hog Slat to provide them with expert knowledge, products and facility designs to help them be the best and most efficient producers in the world.
And it is for this sustained commitment to innovation that we recognize Hog Slat, its founders and its employees with the Award for Excellence in Innovation.
This award is being accepted by Magdalen and Billy Herring.
Billy is also a member of the Pork Council's Hall of Fame.