RALEIGH – Six individuals were honored at a recent awards luncheon as part of the North Carolina Pork Council's annual conference, which was delayed until November due to covid restrictions earlier in the year. Ed Emory, retired director of the Duplin County Cooperative Extension and chair of the NC Pork Council awards committee, presented the awards along with NCPC President Lorenda Overman. The following awards were presented: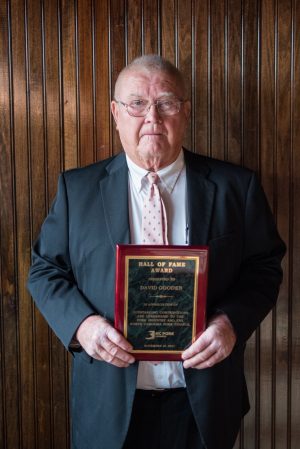 Hall of Fame – David Gooden, Elizabethtown
David Gooden of Elizabethtown was inducted into the N.C. Pork Council Hall of Fame. In addition to running his own farm, Gooden spent 29 years as a high school agriculture teacher and FFA advisor in Bladen County.  As a teacher he instilled in his students an appreciation for the industry and all the opportunities that it provides. Gooden remains active in the pork industry through his role as president of the Bladen County Livestock Association. He works to plan trainings and updates that assists pig farmers in the county.
"David always tries to think of others and is always willing to assist Bladen County agriculture and especially the Extension Office," nominator Becky Spearman of the Bladen County Livestock Association said. "He goes above and beyond to help others and is always willing to lend a helping hand."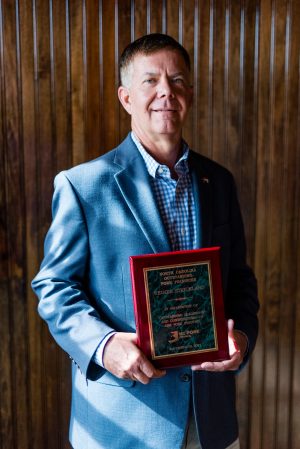 Pork Producer of the Year – Reggie Strickland, Mt. Olive
Reggie Strickland of Mount Olive was named the North Carolina Pork Producer of the Year. Strickland, a seventh-generation farmer, runs a diverse farming operation including hogs that spans Sampson, Wayne and Duplin counties.
Strickland goes above and beyond to be a shining example of the way pig farmers work to live out the We Care principles, especially the principle of community, noted Brian Kennedy, who nominated Strickland for the award.
"He is a committed agriculture advocate, sharing farm life and positive messages through outlets such as social media and farm newsletters," said Kennedy.
Strickland understands the need to bridge the rural-urban gap and educating others and has hosted farm tours for college students and government officials to see pig farming firsthand. Strickland has served on panels at the state, national and international levels to share his experiences with others in his community and beyond. He also created two scholarships for students interested in studying agriculture.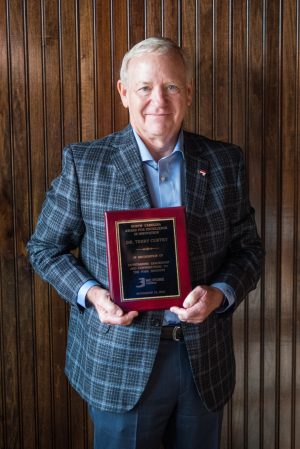 Excellence in Innovation – Dr. Terry Coffey, Wilmington
Dr. Terry Coffey of Wilmington was presented the Award for Excellence in Innovation, which honors individuals for progress in the pork industry through innovative advancements. Dr. Coffey's
contributions include feed analysis technology, genetic advances, and the development of multistage feed diets, to name a few from his career.
Dr. Coffey was behind the research that identified the need for changing the feed formula to meet the dietary needs of the pig based on the stage of life that they are in, making growing pigs more efficient.
Dr. Coffey spent time on the faculty of the University of Florida and N.C. State University before joining Murphy Family Farms and then Smithfield Foods. Dr. Coffey served as the Chief Science and Technology Officer at Smithfield Foods until his retirement last year. In this position, he worked to support internal research on developed technologies' efficiency for addressing the challenges that the industry faces. He was also responsible for examining new technologies to make objective decisions about which ones should be implemented.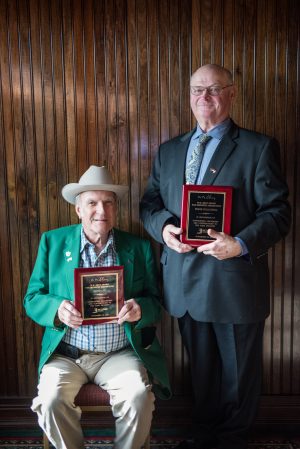 W.W. Shay Award for Industry Distinction – Frank Hollowell and David Lee
Frank Hollowell of Hurdle Mills and David Lee of Zebulon received the W.W. Shay Award for Industry Distinction. The award, named for the first swine extension agent in the state, recognizes individuals who have exhibited outstanding service to the pork industry as an employee of a pork industry company or the Cooperative Extension Service.  This dynamic duo began their partnership in 1979 while working for the Extension Swine Husbandry program in the Department of Animal Science at North Carolina State University. The pair traveled the state testing thousands of animals as they worked to measure and collect data that would result in genetic improvement for millions of pigs. The industry began to improve and grow because of their work, and their responsibilities incorporated more field research programs that changed production practices for the better.
In addition, Hollowell and Lee have been integral to the success of the junior and open swine exhibitions at the N.C. State Fair for over 40 years. "Saying that they support swine shows in North Carolina actually minimizes their contributions," Dr. Todd See, wrote in his nomination. Before the fairs even started, the two would be hard at work tagging and weighing pigs that entered to compete in the fair. He noted that throughout the fair, they are often the first to arrive and the last to leave.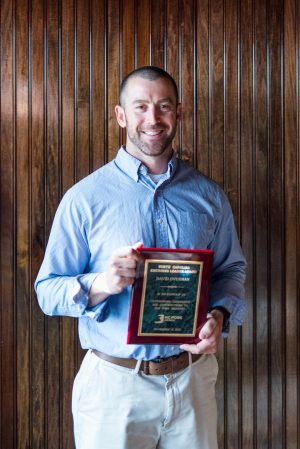 Emerging Leader Award – Dave Overman, Goldsboro
Dave Overman of Goldsboro is the recipient of the Emerging Leader Award, which recognizes a pork producer aged 40 or younger who exhibits potential for leadership.
Overman grew up on his family's farm, raising pigs and crops during the summers, but he thought he wanted a career off the farm. After graduating with a degree in exercise science, he worked with collegiate-level sports teams and the military. However, the farm drew him back in and he started farming again in 2018. When a local company shut down in 2020 amid the pandemic, ending contracts with many farms, Overman started working with neighboring farmers who were faced with difficult decisions about their farms. Overman offered tours of his own farm or traveling to other farms to discuss feasibility of making these changes.